News > Idaho
Animals' scat is scientist's treasure
Tue., April 18, 2006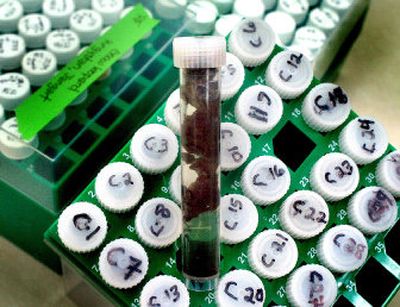 MOSCOW, Idaho – DNA comes in all kinds of packages. The boxes that fill Lisette Waits' work space contain stuff most people can't imagine saving: wild poop.
But the test tubes of bear, fox and snow leopard scat may hold answers that help endangered animals. As genetic science has mushroomed, wildlife biologists like Waits are using newfangled genetics to learn more about rare and remote species.
"When I was getting my Ph.D., I was really worried I wouldn't be able to find a job," said Waits, an associate professor of conservation biology and researcher at the University of Idaho. "A wildlife geneticist? Now everyone's saying, 'We need a geneticist.' "
A decade ago, scientists needed a piece of flesh or skin to really analyze the DNA of a wild creature – making it difficult to do much genetic work on elusive and rare species. But recent advances make it possible to use the tiny amounts of DNA in droppings, hair and other things animals leave behind. The implications for learning about elusive and endangered species are huge.
"In the last five years, it's exploded," Waits said. "It's become one of the major tools for wildlife biology and conservation biology."
In her lab on the UI campus, Waits and her colleagues have analyzed the scat of everything from red foxes to parrots from Peru. Her latest project will be working with about 85 test tubes that contain the scat of snow leopards from Central Asia. She collaborated with the Snow Leopard Trust, Seattle's Woodland Park Zoo and the National Institutes of Health to develop the snow leopard project.
"We just can't catch snow leopards," she said. "They're really secretive. They live in rugged, high mountain terrain."
Estimates of the snow leopard population vary widely, from about 3,000 to 7,000. Attempts to learn about the populations via camera "trapping" are inconsistent, at best. And scientists need more than a little bit of DNA to gather useful information; they need enough of a variety of DNA to make valid distinctions among individuals in a population. That's the main reason scat and hair were of little use in years past – they don't contain all that much DNA, Waits said.
But the development of a process to replicate small amounts of DNA into larger strands has changed all that.
Representatives of the Snow Leopard Trust said in a news release that they're optimistic about the process, but note that using scat still doesn't always work as hoped.
Waits' work will take through the summer, but by the time school starts next year she hopes to have finished analyzing the samples and seeing what can be learned about population sizes, genetic diversity in the population and more.
Waits' lab is also analyzing feathers from Peruvian parrots – locals gather the feathers at a clay lick.
"What we're able to do in wildlife is sort of a spin-off of all the publicity you see about (genetics in) medicine," she said. "We're harnessing that same technology to work on wildlife, fish and plants.
"It's a good day to be a geneticist."
Local journalism is essential.
Give directly to The Spokesman-Review's Northwest Passages community forums series -- which helps to offset the costs of several reporter and editor positions at the newspaper -- by using the easy options below. Gifts processed in this system are not tax deductible, but are predominately used to help meet the local financial requirements needed to receive national matching-grant funds.
Subscribe now to get breaking news alerts in your email inbox
Get breaking news delivered to your inbox as it happens.
---