News > Spokane
Vice president rallies airmen at Fairchild
Tue., April 18, 2006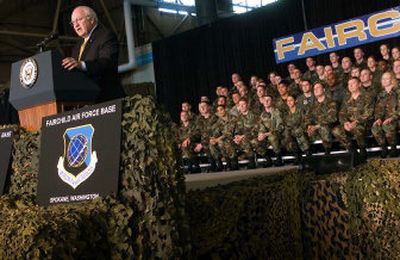 Vice President Dick Cheney praised airmen Monday for their contribution to U.S. military operations during a rally at Fairchild Air Force Base.
"The president and I want you to know how much we appreciate everything you do for the United States," Cheney told the crowd of about 600 airmen, later saying, "America believes in you."
It was just the morale boost that Airman 1st Class Joseph Webb said he needed.
Webb, a boom operator on a KC-135 air refueling tanker, will be deployed Friday.
"It gave me more motivation to go over there and do my job," he said. "I think we should stay there until freedom is granted to the people."
Cheney repeatedly spoke of the need for the United States to stay the course in Iraq and not withdraw troops too soon.
"As always, decisions about troop levels will be driven by conditions on the ground and by the judgment of our commanders, not artificial timelines set by politicians in Washington, D.C.," he said. "The only way to lose this fight is to quit, and that is not an option."
"Terrorist attacks are not caused by the use of strength. They are invited by the perception of weakness," Cheney said, adding that it is imperative to attack terrorists abroad to keep them from hitting the United States.
About 450 Fairchild airmen are now deployed around the globe.
Many of the airmen at Monday's rally gathered hours before the vice president's arrival, some standing for a long wait to hear Cheney's 17-minute speech.
In addition, about 150 military family members and local dignitaries were on hand for the event. Security was tight with metal detectors, explosive-sniffing dogs and a bevy of Secret Service agents all screening attendees.
But the mood was light. A rock band, the Air National Guard Band of the Northwest, and a Spokane comedian warmed up the crowd.
Cheney himself cracked a joke after noting that the mayor of Cheney was in attendance.
"Sounds like a nice place to visit," he quipped after correctly pronouncing the city's name.
Cheney also won laughs when he said, "No one can do without tanker gas," cleaning up a well-known Air Force refueling wing adage: "No one kicks ass without tanker gas."
After his speech, Cheney administered the re-enlistment oath to 16 Fairchild airmen and Air National Guard members from Spokane.
Air National Guard Master Sgt. Johnnie Gandolfo and Tech. Sgt. Bob Gibson both re-enlisted after more than a decade with the Guard. Both said it was a thrill to do so with Cheney.
"I think it was awesome. For any military person, it's an honor when someone up on the chain would administer that oath," Gibson said.
Local journalism is essential.
Give directly to The Spokesman-Review's Northwest Passages community forums series -- which helps to offset the costs of several reporter and editor positions at the newspaper -- by using the easy options below. Gifts processed in this system are not tax deductible, but are predominately used to help meet the local financial requirements needed to receive national matching-grant funds.
Subscribe now to get breaking news alerts in your email inbox
Get breaking news delivered to your inbox as it happens.
---