News > Spokane
Man pleads not guilty in Jewish office shootings
Wed., Aug. 16, 2006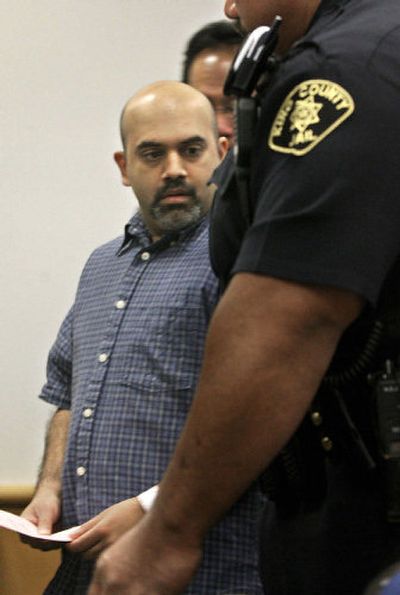 SEATTLE – A man accused of storming Seattle's Jewish Federation offices, killing one woman and wounding five others in a fit of rage over U.S. foreign policy, pleaded not guilty Tuesday to aggravated first-degree murder and other charges.
At a court appearance last Thursday, Naveed Afzal Haq, 30, indicated he wanted to plead guilty, but a King County Superior Court judge continued his arraignment to give his lawyers time to determine whether their client was competent to make such a plea.
On Tuesday, defense lawyer C. Wesley Richards said he and his co-counsel had met with Haq for nine hours during the past week and found no indication that he would not be capable of assisting in his own defense.
King County Superior Court Judge Paris Kallus said she would rely on Richards' statements regarding Haq's competency.
Haq would face either life in prison or execution if convicted in the death of Pamela Waechter, 58, director of the Jewish charity's annual fundraising campaign.
In addition to the aggravated murder charge, Haq pleaded not guilty to five counts of attempted first-degree murder in the July 28 shooting at the federation's downtown offices.
He also pleaded not guilty to one count of first-degree kidnapping, involving a teenage girl who was briefly taken hostage; one count of first-degree burglary for allegedly entering a locked facility to commit a crime; and one count of malicious harassment under the state's hate-crime law.
Prosecutors say he forced his way into the Jewish Federation's offices and opened fire with a handgun, identifying himself as a Muslim and saying that he was upset about the war in Iraq and U.S. support of Israel.
Aggravated first-degree murder is punishable by death or life in prison without possibility of parole. King County Prosecutor Norm Maleng has not yet announced whether he will seek the death penalty.
Haq was being held without bail at the King County Jail. His next court appearance is set for Aug. 30.
After the court hearing, the executive director of the Jewish Federation said the charity would continue to do its work in a different building, preparing to start its annual fundraising campaign.
Richard M. Fruchter, who started his new job as president and chief executive officer this week, thanked the community for its support.
"It will take years for us to unravel his devastation," Fruchter said of the shooter's actions.
Five women were wounded by gunfire, including Dayna Klein, who was 17 weeks pregnant, and three who required lifesaving surgery.
Haq fired at Klein's abdomen, but the bullet hit her raised arm, Seattle Police Detective Dana Duffy said in a probable cause statement filed with charging documents. Klein crawled back to her desk and called 911, defying the gunman's warning that no one call authorities.
Haq eventually got on the phone with the 911 operator and said he was upset about the war in Iraq and U.S. support of Israel, and asked the operator to patch him through to CNN, Duffy said.
He later agreed to surrender, put his two guns down and walked out, hands on his head.
Three of the wounded women remained at Harborview Medical Center on Tuesday. A nursing supervisor said Layla Bush, 23, was in serious condition, while Cheryl Stumbo, 43, and Christina Rexroad, 29, were both in satisfactory condition. At one point Rexroad was released from the hospital, but was readmitted Monday, the nursing supervisor said.
Klein, 37, and Carol Goldman, 35, who was hit in the knee, have been released.
Local journalism is essential.
Give directly to The Spokesman-Review's Northwest Passages community forums series -- which helps to offset the costs of several reporter and editor positions at the newspaper -- by using the easy options below. Gifts processed in this system are not tax deductible, but are predominately used to help meet the local financial requirements needed to receive national matching-grant funds.
Subscribe now to get breaking news alerts in your email inbox
Get breaking news delivered to your inbox as it happens.
---