Coffee run ends with a different kind of jolt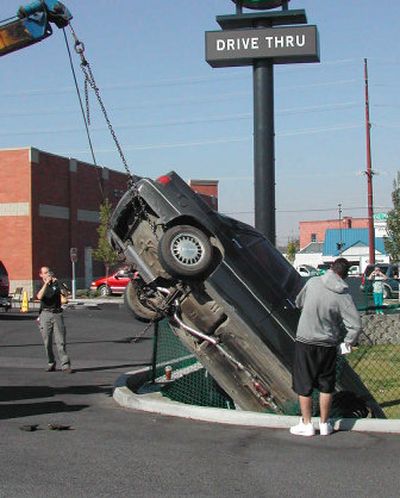 No, it wasn't the caffeine.
Billy Colleran was on a mocha run for his buddy's girlfriend Monday morning when a slip of the foot sent his car into a giant swale positioned precipitously at the end of a Starbucks drive-through.
"It was just an accident," he said.
At about 8:30 a.m. he drove to the coffee shop near Pines Road and Sprague Avenue.
Exiting the drive-through with wallet and beverage in hand, 18-year-old Colleran said he mistakenly hit the gas instead of the brake.
In a split second, the recent University High School graduate and his Chevy Corsica plunged through a cyclone fence and into a pit big enough that it could hide a couple classes of third-graders trying to evade the first day of school.
Not only did Colleran avoid serious injury in the 4-foot fall, the crash didn't even spill the drink he instinctively lifted into the air to cushion it from the impact.
"The worst part of this is the Starbucks drive-through has been down for about 30 minutes now," joked Spokane Valley police Deputy Robert King.
Behind him, several people were at long last discovering a use for their camera phones.
"Is this an advertisement for coffee?" one passer-by asked.
The brick-lined swale is designed to collect stormwater from nearby parking lots and resembles a backyard swimming pool, except for the grass in the bottom. The swale was wide enough to swallow the length of the car.
After several delicate maneuvers with a tow truck, the Corsica was freed and started, and Colleran and a friend drove it away.
---