Glenn Ford, 90, star of film, TV, dies at home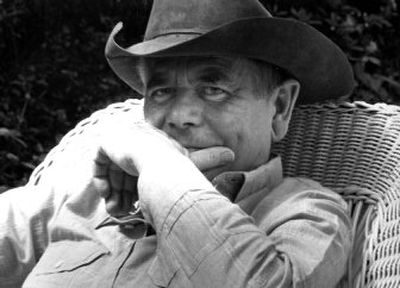 Glenn Ford, a rugged but amiable leading man who appeared in nearly 100 movies, including gritty urban dramas, light comedy and Westerns, died Wednesday at his home in Beverly Hills, Calif., police said. He was 90.
Beverly Hills police were dispatched to Ford's home about 4 p.m. and found him dead inside. No foul play was suspected. Ford had suffered a series of strokes in the 1990s.
Three of Ford's best films were "Gilda" (1946), "The Big Heat" (1953) and "The Blackboard Jungle" (1955). In them, he was a gambler, a police detective and a schoolteacher, respectively. As varied as the parts were, all benefited from his low-boil technique. It always appeared he would erupt into physical force if pushed too far.
Ford also was the Man of Steel's adoptive father in "Superman" (1978).
The son of a railroad executive, Gwyllyn Samuel Newton Ford was born in Quebec, Canada, on May 1, 1916, and raised in Santa Monica, Calif. He once said he knew acting held promise when, at age 4, he appeared in a community production of "Tom Thumb's Wedding," and the part required him to eat a large bowl of chocolate ice cream.
He appeared in a film short, "Night in Manhattan" (1937), as a nightclub emcee before his feature debut in "Heaven With a Barbed Wire Fence" (1939) as a New York store clerk who ventures west.
That movie's director, Ricardo Cortez, doubted Ford's prospects in Hollywood, but Columbia Pictures snapped him up and groomed him for stardom alongside his lifelong friend William Holden.
Amid a spate of mediocre service pictures, Ford was granted a rare foray into an A-list production with "So Ends Our Night" (1941).
With U.S. entry into World War II, Ford joined the Marine Corps and participated in the Battle of Midway. Later, in the Navy Reserve, he did tours of duty in the Vietnam War.
Columbia showcased its veteran in better vehicles after World War II, on condition that he sign a long-term contract. The result was a few fine pictures, including "Gilda" and "A Stolen Life," with Bette Davis playing both good and bad sisters with a yen for Ford.
"Gilda" was one of the most popular films of its day – and one of the most sordid by Hollywood standards. Ford played a gambler on a long losing streak who tramps into Buenos Aires and lands a job managing a casino for a sadistic boss. The boss is married to an old flame, played by Rita Hayworth, who performs a striptease and says at one point, "If I'd been a ranch, they would have called me the Bar Nothing."
"The Blackboard Jungle" (1955) showcased Ford as a teacher at an inner-city school trying to control delinquent, often violent students. The film was best known for its "Rock Around the Clock" theme song and became a massive hit with audiences.
A gifted horse rider who in childhood was stable boy for Will Rogers, Ford appeared in dozens of Westerns of varying quality.
Though never nominated for an Academy Award, he was inducted into the Hall of Fame of Great Western Performers in Oklahoma City in 1978.
Ford starred in two television series: as the sheriff in "Cade's County," an early 1970s CBS police drama that also featured his son, Peter Ford; and as a Depression-era country preacher in the 1975 NBC drama "The Family Holvack."
---