Families grieve at killer's sentencing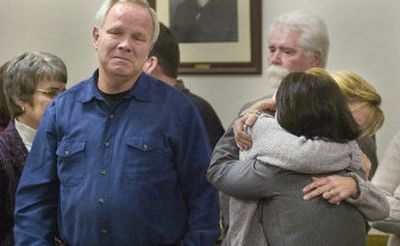 Two mothers sat side by side in a courtroom grieving the loss of their sons, one to murder and the other to prison.
"You promised he'd be OK that night," Maria Joseph said to the man who killed her son. "If I should be able to hate anyone, Kevin, it should be you. But I don't."
Kevin D. Stevens, 19, was sentenced Friday to more than 18 years in prison for Peter Michael Joseph's brutal death. Stevens and Kory J. Bruno, then 17, conspired to kill Joseph for his money and drugs last March. Bruno will be sentenced early next year.
Stevens and Bruno smashed Joseph's skull with a baseball bat, covered his head with a plastic bag and wrapped him in a blue tarp.
Detectives found the body several weeks later in the basement of the home on East Trent Avenue where Stevens and Joseph lived as roommates.
"I can't begin to express my feeling for your loss," Stevens' mother, Bethann Kerr, said to Maria Joseph. "What Kevin did was horrendous."
Kerr also pleaded for the judge's leniency.
"He has the capability and the desire to better himself," she said.
Other than when the mothers spoke on behalf of their sons to Spokane County Superior Court Judge Neil Rielly, the two comforted each other and passed tissues to wipe the tears that streamed down their faces.
Defense attorney Bevan Maxey commented that it was "rare" to see the mother of a murder victim so forgiving.
Stevens, who showed remorse for his actions in a letter and in the courtroom, looked his dead friend's mother in the eyes as she read her statements.
"While you are away, do this," Joseph said. "Let all those that you know, know that drugs kill. Help others not to follow in your footsteps."
The Stevens family and Maria Joseph have been talking since October.
"Myself and my family feel so much pain for what she's going through," said Stevens' grandfather, Lonnie Stevens. He and his family wanted to do what they could to ease Maria Joseph's grief.
"She's destitute, and I'm in a position to help," Lonnie Stevens said. "We are helping her out with some of her needs at this point."
But the family is doing more than offering financial assistance.
Lonnie Stevens owns the home where Peter Joseph was murdered and plans to have it demolished. A large wooden cross bearing Peter Joseph's name will dominate the site temporarily.
When the property is commercially developed, the memorial will become a permanent element on the fence that will surround the area.
In addition to the family's remorse for what happened, Kevin Stevens sent Maria Joseph a hand-written letter apologizing.
"Ever since this happened, it has been eating me up inside," Kevin Stevens wrote. "I love you and Peter … I'm sorry for what I've done. I'm sorry for the pain I've caused you."
Lonnie Stevens was proud of the letter his grandson wrote.
"He did something horrible," Lonnie Stevens said. "But he's standing up to it."
The conditions of Kevin Stevens' second-degree murder sentence state that he's not to have contact with the Joseph family for the rest of his life, but Maria Joseph stated Friday she would take legal steps to change that because she wants to be a part of his life and recovery.
Lonnie Stevens said: "We've learned a lot from Maria, her faith and her forgiveness."
---