News > Spokane
A tale of two tree growers
Sat., Dec. 9, 2006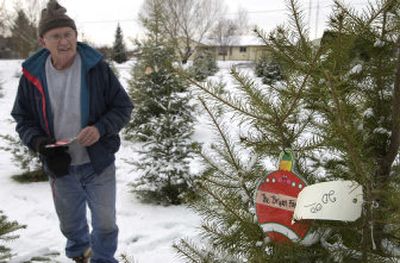 The tiny barrel stove in Don Bergman's garage was working overtime as the old cowboy grabbed his chainsaw and headed for the door to greet another stranger.
"Do you have one picked out?" Bergman asked.
Then, plucking an order ticket from his guest's gloved hand, he broke trail across the crusted snow for a bushy crop of Douglas firs. His days from Thanksgiving through Christmas have been punctuated for 23 years with blue bursts of chainsaw smoke and rambling fireside chats.
Those who've sat around the rusting stove at Bergman's Spokane Valley Christmas tree farm know the stories. The time Don, armed only with a bow and arrow, crossed paths with a grizzly bear and a bull moose all on the same day is an old favorite. Another is the tale of a husband who, after perusing the tree lot for two hours, drove away to find a bathroom and left his wife behind.
"After he got back, they started fighting and left," Bergman said. "Never did buy a tree."
There used to be a half-dozen Don Bergmans in Spokane Valley – older neighbors with fresh-cut Christmas tree farms – but their numbers have dwindled.
"I think I'm just going to keep going until I keel over," Bergman said recently. "I don't know what else I'd do. It is getting in the way of my fishing and hunting."
If Bergman plants saplings this spring, he'll be 80 by the time his tallest trees, 8-footers, are ready for the chainsaw. Growing a marketable Christmas tree takes seven to 10 years. Retiring is a decision that has to be made years ahead of time.
"I have suggested that he not plant so many," said Nelda Bergman, Don's wife. "We've been married 51 years, a little more than 51 years, and we're still opposite on just about everything."
Nelda retired from tree tending several years ago. When the couple started cutting Christmas trees on Adams Road in 1983, the job was pretty much hers. They had grown produce for years and thought pine trees might be less work.
"They grow up in the forest and no one has to do anything to them, but surprise, surprise," Nelda said.
Her husband was still a mechanic in the Washington Air National Guard when the farm started. He'd plant the trees, lash them to sticks to make sure they grew straight, and shave them into little pinecone shapes, but Nelda had to make the sales.
Being down on all fours in the December snow was no picnic, she said. One year the snow was so crusty, she had to pry it free with a crowbar just to get to the tree trunks.
The work of growing trees is driving one of Bergman's few competitors to gradually give up the farm.
On his small tree farm in Otis Orchards, 73-year-old Bill Clutter gets his customers to do the cutting whenever he can, subtly asking youngsters, "Don't you think Dad should cut the tree?" After the kids answer with an enthusiastic "yes," Clutter hands the father a bow-saw. There's no chainsaw at Clutter's tree farm.
Since he started selling trees in 1992, Clutter has learned a few things about people and Christmas trees. More often than not, children will pick out a Christmas tree that matches their height. Mothers usually want to measure their trees carefully and take the longest time getting the right one. Fathers are quick to pick and often quick to regret their selection; the trees look so much shorter in the great outdoors than they do in the living room.
Clutter is getting out. The trees he's planting should be ready by the time he's in his mid-80s. The former Safeway butcher who started tree farming, like Bergman, for retirement work, said that's old enough.
"Actually, the best part of the job is you meet some wonderful people, and you get to see their kids grow up," Clutter said. "But I miss my grandkids' AAU basketball because of it."
Local journalism is essential.
Give directly to The Spokesman-Review's Northwest Passages community forums series -- which helps to offset the costs of several reporter and editor positions at the newspaper -- by using the easy options below. Gifts processed in this system are not tax deductible, but are predominately used to help meet the local financial requirements needed to receive national matching-grant funds.
Subscribe now to get breaking news alerts in your email inbox
Get breaking news delivered to your inbox as it happens.
---