Sports
Cougs and Vandals worlds apart
Mon., Dec. 11, 2006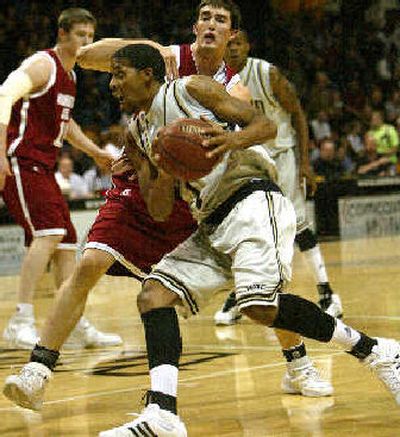 PULLMAN — Both Washington State and Idaho are taking a couple of days off from practice to allow their players to focus on finals this week, but the break comes with the two teams in wholly different conditions.
After the Cougars defeated the Vandals 66-54 late Saturday night in Moscow, the two teams sport near-opposite records with WSU at 9-1 and Idaho at 1-8.
For the Cougars, the season has been almost an unqualified success thus far, and on Saturday they showed some mettle in taking care of Idaho despite playing somewhat lackluster basketball while coming off of the high from their win earlier in the week against Gonzaga.
"Coach Tony (Bennett) was telling us before the game that we were on a mountaintop after the Gonzaga game and this game was kind of in the valley," WSU forward Daven Harmeling said after the game. "He told us this is where championship teams win the games, win them in the valley coming off of big games. There are some games on the schedule where you may not win pretty, you've just got to win them."
The Cougars have just two more non-conference games remaining, the first coming on Saturday against Cal State Northridge in Pullman and the second coming on Dec. 21 in Seattle against a potent San Diego State team.
It seems highly improbable that WSU will enter the Pac-10 season – which kicks off with a road game at No. 1 UCLA, by the way – with a record any worse than 10-2, and 11-1 is still a strong possibility.
"Progress is made in the valley," Bennett said, referring again to the Idaho game. "We battled, and when we needed to, we came up big.
"Some guys stepped up. Mac (Hopson) gave us a nice lift. We played a solid game, and we got a little taste of our depth helping us out."
Hopson's situation may be the perfect illustration of the gap between the two teams on the Palouse right now. Last year, the point guard from North Idaho College had committed to the Vandals, but he re-opened his recruitment after coach Leonard Perry was fired. The Cougars discovered him, and Hopson ended up signing with the school at the other end of Route 270.
Since his father, Phil, was a star on the Idaho teams of the early 1980s, Saturday's game was especially sweet for Hopson, who scored 14 points off the bench.
Idaho, on the other hand, could have sorely used Hopson, most likely in the starting lineup. The Vandals are also in desperate need of big men, and just about everything else, too. Before the game against WSU, head coach George Pfeifer and junior guard Mario Mackey, the team's second-leading scorer, sat down and agreed that Mackey would leave the team because the transfer was obviously unhappy with the situation in Moscow.
"It was just a moment where he wasn't happy with what was going on and his role and what was taking place and we decided he didn't want to be here," Pfeifer said.
The Vandals could get some help as forward Darin Nagle is expecting to become eligible in time for Idaho's next game, at North Dakota State on Saturday. Fellow forward Mike Kale, out with an injury, could be ready in time to play Eastern Washington five days later.
Even still, Pfeifer readily admits that his young team has a long way to go – a point made that much clearer as WSU coasted to the win Saturday night.
"We're young and inexperienced and not playing as well as we'd like to be," Pfeifer said. "We're missing some pieces, and now we get into a buzzsaw in some games."
Local journalism is essential.
Give directly to The Spokesman-Review's Northwest Passages community forums series -- which helps to offset the costs of several reporter and editor positions at the newspaper -- by using the easy options below. Gifts processed in this system are not tax deductible, but are predominately used to help meet the local financial requirements needed to receive national matching-grant funds.
Subscribe to the sports newsletter
Get the day's top sports headlines and breaking news delivered to your inbox by subscribing here.
---