News > Spokane
Dog's trip to Australia delayed
Wed., Dec. 20, 2006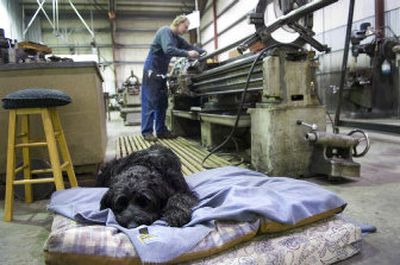 An Australian man and Cheney's celebrity canine will have to wait a little longer to be reunited.
Kevin Greer, of Brisbane, Queensland, was expecting his black Russian terrier, Duncan, to be flown to Australia by mid-January. But because of a minor health issue, the departure date has been pushed back to Feb. 5, said Lisa Rosier, Greer's daughter and Duncan's caretaker.
Greer and Duncan met when he was visiting his daughter in Cheney during the summer and were the subject of a Spokesman-Review story. The same day Greer arrived from Australia, Rosier received Duncan from the Midwest.
Both arrived in poor health. The 69-year-old Greer has had a heart attack, a stroke and undergone triple-bypass surgery. He also has damaged vocal cords, lung disease and a growth in his skull.
Duncan was a neglected 1 1/2-year-old, tick-ridden pup that had been found in rural Missouri. He was taken to a shelter and Rosier adopted the dog through a national rescue association site.
As their friendship grew, Duncan made a full recovery while Greer had a new reason to get up every morning. But when his vacation was over, Greer didn't have the approximate $4,000 it would cost for Duncan to move to Australia.
The venture involves plane fare, blood tests, vaccinations (some of which already have been done) and the 30-day quarantine fee (about $550) in Australia.
Through a vigorous campaign – organized by the Cheney Police Department, where Rosier works – thousands of dollars were raised, so much, in fact, that Cheney is considering opening an off-leash dog park with an extra $3,500 in donations.
Rosier said Duncan originally was due to leave Dec. 12. Her dad planned to pick him up on Jan. 14, after the quarantine.
The date was pushed back when tests showed Duncan has antibodies in his blood system, lingering reminders of his difficult life in Missouri.
The dog is on antibiotics.
Greer "was devastated when he heard about the delay," Rosier said. "But Duncan is close to having them out of his system."
Duncan is now scheduled to leave Feb. 5 and be released from quarantine on March 11. Rosier and her husband, Chris Nielson, plan on being at the reunion.
Their airfare will be paid with money raised through functions like Cheneyfest 2006, a community celebration that featured an appearance by Duncan.
Local journalism is essential.
Give directly to The Spokesman-Review's Northwest Passages community forums series -- which helps to offset the costs of several reporter and editor positions at the newspaper -- by using the easy options below. Gifts processed in this system are not tax deductible, but are predominately used to help meet the local financial requirements needed to receive national matching-grant funds.
Subscribe to the Coronavirus newsletter
Get the day's latest Coronavirus news delivered to your inbox by subscribing to our newsletter.
---