News > Voices
Darrell Wilcox reveals social conscience in works
Thu., Dec. 28, 2006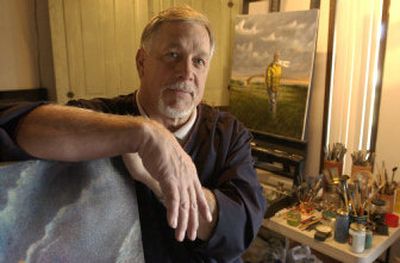 Darrell Wilcox was born an artist. When he was very young, he drew human figures. "It was a gift that was given to me," said Wilcox, 60.
He says his life has been a strange canvas and that he's come back to the Northwest to live a second childhood by tinkering with hot rods and painting.
Trained in the East, the West and in Italy, Wilcox has done his share of pretty landscapes, but his large oil paintings, described by him as "metaphors for social justice," have rattled him because he "had no idea how much emotion could be generated by putting paint on canvas."
It began in Baltimore. Wilcox was mugged, and he began to paint street scenes filled with social problems. He began showing at galleries, including the Museum of Contemporary Art Gallery in Washington, D.C., the Maryland Institute College of Fine Art, and the C. Grimaldis Gallery in Baltimore in a show called "Fallen Angels."
The art critic at the Baltimore Sun described Wilcox's work:
"Darrell Wilcox's 'The Scream' stands as the show's quintessential work. Wilcox, of course, takes his title from the famous work by Edvard Munch, but in Munch's painting the demons that cause the scream are psychological. The man who screams in this urban park is surrounded by robbery, murder, drug addiction and other social ills so rampant that the buildings on the perimeter of the park are falling down, symbolizing the crumbling of civilization."
Feedback from some viewers was not always positive. When Wilcox began depicting prostitutes in his work, a group of women protested and burned items in front of his studio. He quit painting and came back to the Northwest to teach.
"By nature I'm an 'attaboy' painter, you know, looking for a pat on the back, and it makes me extremely nervous to feel like I have to defend my paintings. I just assumed that people understood that I was asking for social changes in my work."
People were not always open to his depictions of society. Wilcox mused that perhaps to look at his work and accept it meant that one would have to make a decision of sorts, or a change.
Wilcox, who has been out of the area for about 15 years, has been back in the area for less than a year. He paints out of an apartment in Spokane Valley where he reflects upon his rocky yet eye-opening journey. He speaks of falling in love, and losing his shirt in the process, and he speaks of traveling and learning along the way. Now he is ready to paint and show again.
His newest painting titled "Starting Over" shows a man heading West, leaving behind a burning house and the big city. "It's a metaphor for where I am now," he said.
He is teaching palate knife landscape painting at Spokane Art Supply in the Valley.
"My goal now is to do art and live well, which is an art in itself."
Local journalism is essential.
Give directly to The Spokesman-Review's Northwest Passages community forums series -- which helps to offset the costs of several reporter and editor positions at the newspaper -- by using the easy options below. Gifts processed in this system are not tax deductible, but are predominately used to help meet the local financial requirements needed to receive national matching-grant funds.
Subscribe to the Coronavirus newsletter
Get the day's latest Coronavirus news delivered to your inbox by subscribing to our newsletter.
---