News > Spokane
Schools catching Super Bowl fever
Sat., Feb. 4, 2006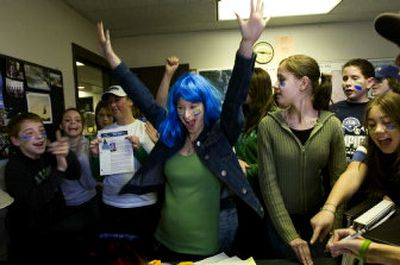 Some schools harnessed the inevitable Super Bowl spirit Friday by holding their own competitions and rallies.
Northwood Middle School awarded points to the most dressed-up students in each homeroom. The winning room receives a pizza party.
Nate Eyestone, 13, an eighth-grader, tried to construct his own hawk-like outfit with sparkling blue tassels. Classmates said it looked like a dress on a leprechaun, he said.
"I ran out of tassels for arms," Eyestone said, with green and blue hair and face paint.
One Pittsburgh fan discovered the itchy reality of slopping art paint on his face, which he ended up peeling off by second period.
Eighth-grader Charles Duncan sported his new eBay purchase of a signed Jerome Bettis Pittsburgh Steeler jersey.
Not to be outdone by Duncan and the 770 middle school students, Assistant Principal Brenda Goehring wore a pristine, autographed Shaun Alexander jersey that had been under glass hanging in her husband's office.
"I owe him big," Goehring said.
Northwood Principal Dave Stenersen, who knew there would be some excitement Friday, saw a chance to bring students together with some friendly competition and community service learning.
Part of the competition was a food drive, which brought in more than 1,000 food items for the Women and Children's Free Restaurant in the basement of St. Paul's United Methodist Church.
Not one to miss an opportunity to channel students' interest, St. Charles Catholic School held their own pep rally with signs, cheers and 240 shouting students from preschool to eighth grade.
Stevens Elementary School Principal Mike Crabtree said there was no official observation at his school.
"I did see several kids with Seahawk jerseys or T-shirts. I was surprised," Crabtree said. "The kids were excited."
The Super Bowl frenzy didn't grab everyone.
"I'm excited, and I don't even watch football," said Rogers High School senior Alana Scott.
But at school she saw only one Seahawks jersey.
"I was kind of disappointed," Scott said. "I'm saving my jersey for Saturday, I mean Sunday."
Local journalism is essential.
Give directly to The Spokesman-Review's Northwest Passages community forums series -- which helps to offset the costs of several reporter and editor positions at the newspaper -- by using the easy options below. Gifts processed in this system are not tax deductible, but are predominately used to help meet the local financial requirements needed to receive national matching-grant funds.
Subscribe now to get breaking news alerts in your email inbox
Get breaking news delivered to your inbox as it happens.
---