News > Spokane
Only the best for family's best friend
Tue., Feb. 7, 2006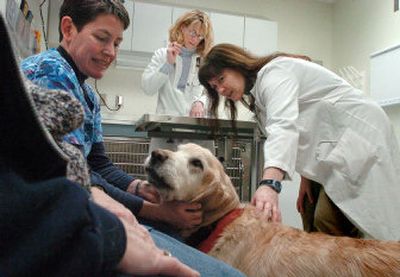 PULLMAN – The patient wore a bandanna that read, "I'm a Cancer Survivor."
He was back for a checkup after a month of radiation treatments, and the doctor thought he was ready for the next step.
"Maybe we ought to think about following up with chemotherapy," Janean Fidel said.
All in all, it was a fairly standard course of cancer treatment. But the patient wasn't paying much attention – he kept chewing on his paws. And the doctor, Fidel, is a professor and veterinarian in Washington State University's Veterinary Teaching Hospital.
Roman, a 121/2-year-old golden retriever, is one of millions of pets afflicted by cancer each year – but one of a relative handful who are lucky enough to get the kinds of treatment that most human patients get. His owners, Jean and Steve Drummond of Spokane Valley and their adult son, Steve, spent December driving him to Pullman for radiation treatments every day. It was a high cost in more than terms of time – the treatments can run into several thousand dollars – but Jean Drummond said she never hesitated.
"We wouldn't have him here with us today if we hadn't done it," she said.
The teaching hospital at WSU treats 15,000 animals a year for various illnesses and injuries, said Charlie Powell, spokesman for the College of Veterinary Medicine. The hospital uses the same high-tech treatments available in a lot of human medicine – Roman benefited from the use of the hospital's linear accelerator, a device that uses X-rays and electrons. Tiny particles are fired at nearly the speed of light.
"It allows us to bombard the tumors," Powell said. "This is 'Star Trek' stuff."
Roman's tumor came to light just after Thanksgiving, when the Drummonds noticed he was bleeding from his nose. Their Spokane veterinarian referred them to the WSU hospital, where he had an MRI that confirmed the nasal tumor.
Roman is special to the Drummonds, in part because he was so helpful when their son, Steve, was ill several years ago. Steve, 35, has Asperger's syndrome, and at the time he was struggling with other health problems, as well. Roman watched over Steve and even came to alert the Drummonds if he was having a seizure.
"He's just a good friend," Steve Drummond said.
Jean Drummond said, "He contributed to Steve's recovery, and now Steve can contribute to Roman's recovery."
Roman contributed to the family in another key way – he detected skin cancer in Jean, which was successfully treated early. About six years ago, Jean noticed that Roman was constantly licking at spots on her leg and chest.
"It was unusual, and it was persistent," she said.
Researchers now say that dogs can sniff out cancer, and some dogs are being specially trained for that task.
"I was told in a vet's office that I should have it checked, that it was recently discovered that dogs did that – licked cancer," she said. "I thought, 'Oh yeah, right.' "
But she eventually had a biopsy and found that she had skin cancer on one spot – and a pre-cancerous growth on another. The cancer was treated, and she said her doctors have told her there's little chance of it coming back.
So she and her family have a lot of reasons to be grateful to Roman. And when Fidel, the WSU vet, was running through the various options and costs for chemotherapy drugs, Jean worried less about the cost and more about the effect on Roman – the more expensive drug was less toxic, and so she chose that one.
"He's worth it," she said.
Local journalism is essential.
Give directly to The Spokesman-Review's Northwest Passages community forums series -- which helps to offset the costs of several reporter and editor positions at the newspaper -- by using the easy options below. Gifts processed in this system are not tax deductible, but are predominately used to help meet the local financial requirements needed to receive national matching-grant funds.
Subscribe now to get breaking news alerts in your email inbox
Get breaking news delivered to your inbox as it happens.
---