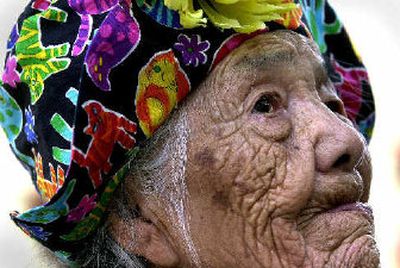 PLUMMER, Idaho – Ann Antelope was born in a log cabin along the south end of Lake Coeur d'Alene, the same place generations of her ancestors had fished for trout, dug water potatoes and hunted deer.
But this daughter of a chief arrived in a time of huge change – a new religion and language were being forced on her tribe, dancing had been banned, settlers kept arriving and men were only two years away from joining birds in flight.
The pace of change would only quicken. There would be disease epidemics, world wars, television, atomic bombs, dams. Antelope, however, would remain an anchor for her tribe, the Coeur d'Alene Indians.
On Saturday, she died. The tribe is mourning the loss of its oldest member, a 104-year-old woman known as "Auntie Annie" or "En-quam-quam-tsen," which means beautiful talker.
Ann Antelope, who later took her husband's name Samuels, stood for "tribal pride and dignity," said Coeur d'Alene Chairman J. Allan. Remembrances that have taken place throughout the week will culminate in a funeral Saturday and a "giveaway" at the tribe's casino in Worley. She will be buried in Tekoa, Wash., just a few miles from the valley where her father farmed.
"Our unwritten traditional law dictates that we honor our elders with the highest level of respect and reverence because they are the ones who have worked hard, sacrificed their own comforts and endured hardships to establish a future on our behalf," Allan said.
One of Samuels' grandnieces, Norma Jean Louie, had a simpler way of describing her importance: "She taught us what we were supposed to do."
Samuels originally attended a Catholic mission school in DeSmet, Idaho, but her father removed her from classes because of a running feud he had with the priest. Her father had fought the tribe's conversion to Catholicism – when tribal members were ordered to stop war dances and burn their buckskin clothes, he hid his regalia in the rafters of a roof.
Samuels continued school at a mission on the nearby Nez Perce reservation. When she was 20, she entered an arranged marriage with a World War I veteran. The couple had six children, four of whom died in infancy. The remaining two died from tuberculosis by the time they were teenagers.
It was an unhappy relationship, according to her niece, Lovinia "Beans" Alexander. Eventually, Samuels fled from her husband, driving away in an old Chevy jalopy she had purchased years earlier using gold coins.
"The arranged marriage was without love, but that was the traditional way to do it," Alexander explained.
She then married a former Nez Perce classmate, Titus Samuels. The couple did farm work, traveling each season to the Yakima Valley to harvest hops, fruit and tomatoes. When they weren't working, the couple danced and played traditional stick games. They had three children, raising them on a homestead farm near Lapwai, Idaho.
Powwow dancing had been outlawed on the reservation until Samuels was 37. She made up for lost time, however. Samuels and her husband spent portions of most summers traveling to dance celebrations on reservations across the West, said her niece, Alexander, who is now 86.
Samuels had a special love for gambling and stick games, Alexander said. She was even known for having special powers in the games. In a 1992 interview with a priest, Samuels said she learned of her powers as a young girl. Once, she was visited by water spirits on Lake Chatcolet. Another time, at a camp near Cheney, the face of an old man appeared in a cloud. He gave her a sacred song and offered his help in the future. In later years, Samuels said she could foretell good and bad times by listening to the howls of coyotes or the songs of owls.
When Samuels played stick games, she sometimes sang her sacred song. She was rarely beaten, Alexander said. "These things are not supposed to be told, but it's all been out by now anyway."
Until four or five months ago, Samuels would typically spend one night a week at the tribe's flagship casino and hotel in Worley, Alexander said. Her room was always free of charge, as ordered by the tribal council. But Samuels often stayed up gambling all night, nodding off occasionally against the screen of a video gaming machine.
Another love was shopping at thrift stores. Whenever there was a hurricane or national disaster, Samuels would ship off boxes of extra jackets and blankets to victims.
Samuels was also a stickler for remembering the dead. She didn't talk much about her many lost children, but she always traveled the reservation, tending their scattered graves each Memorial Day. Her husband died in 1996 at the age of 94. He is buried near Lapwai. Two of their children survive.
Tradition and culture kept Samuels rooted to the area. She relished travel – including an all-night gambling trip to Las Vegas while she was in her 90s – but the outside world was sometimes bewildering. Her niece, Virginia Matt, accompanied Ann and Titus Samuels on a journey to visit a relative in Kansas.
Before departing from the Spokane International Airport, Samuels told her niece she wanted to pray. Samuels was anxious, talking the whole time as she unknowingly walked onto the plane and took a seat next to her husband.
"She talked a mile a minute," Matt recalled. "After we were way up there over the clouds, she finally turned around and said, 'Where am I? Are we off the ground?' "
When Samuels realized she was high above the clouds, Matt said she had everybody laughing with her declarations, " 'Titus, hold my hand! We're in the air! We're in the air!' "
Life was tough, but Auntie Annie kept things light. That was her secret to a long life, said Louie. And Auntie Annie always made sure to spread her medicine. "Being happy – everywhere she was, we were always laughing," Louie said.
---