Sports
Chargers can't answer Bell, lose to Broncos
Sun., Jan. 1, 2006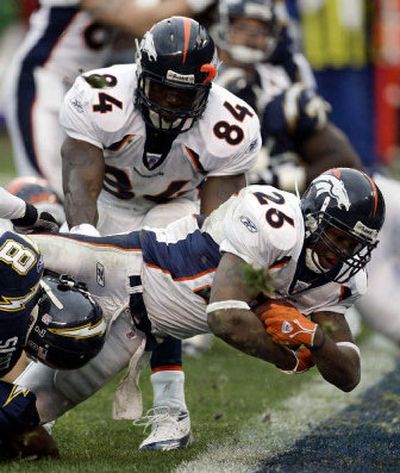 SAN DIEGO – Drew Brees hustled out of the locker room with his right arm in a sling.
LaDainian Tomlinson said he played the last 4 1/2 games with a cracked rib that made it tough to breathe every time he got hit.
It was a painful ending to a lost season for the San Diego Chargers, who were roughed up Saturday in a 23-7 loss to the playoff-bound Denver Broncos.
Denver safety John Lynch, who's from San Diego, did a lot of the damage himself, helping knock Brees out of the game with a dislocated shoulder, then forcing Philip Rivers to fumble in the end zone, resulting in a safety.
The game, played on a rainy afternoon in front of a crowd that included thousands of Broncos fans, meant nothing in the standings.
That didn't keep the Broncos (13-3), who had already clinched the AFC West title and a first-round bye, from playing all-out.
"In my mind, every time you get an opportunity to play in the NFL, you owe it to yourself, to your team and to the people who pay to watch the game, to play hard," said Lynch, whose high school coach was in the stands.
Quarterback Jake Plummer got banged around a bit but led the Broncos to a 14-7 halftime lead before making way for Bradlee Van Pelt.
"It's going to mean nothing if we don't do something in the playoffs," said Plummer, who was 8 of 14 for 91 yards.
Tatum Bell scored three touchdowns for Denver but was held to 52 yards on 17 carries. He needed 131 yards for 1,000. He and Mike Anderson were trying to become the fourth running back tandem in NFL history to finish with 1,000 yards each.
San Diego (9-7), which won the division last year, lost three of its last four games. After ending Indianapolis' shot at a perfect season on Dec. 18, the Chargers were knocked out of the playoff picture with a listless performance in a 20-7 loss at Kansas City on Christmas Eve.
Tomlinson did set two club records.
His 6-yard scoring run in the second quarter was his 20th touchdown of the season, breaking a tie with Chuck Muncie, who scored 19 TDs in 1981. He also eclipsed Hall of Famer Lance Alworth's team career mark of 9,721 yards from scrimmage, pushing his total to 9,755.
Tomlinson hadn't scored in the previous four games, matching the longest drought of his five-year career. He gained 92 yards on 19 carries, his fifth straight game under 100 yards.
He sustained what the team thought were bruised ribs in a win over Oakland on Dec. 4. X-rays the next day didn't show a break, but Tomlinson said an MRI last week revealed a cracked rib.
"It's tough when you are playing with ribs that are more than just bruised. But as football players, it's hard to take us off the field," he said. "You have to be really pretty much dying out there to come off the field. That's just the way we are."
Tomlinson said there were some games "that it really affected me, but finally today was the first day that I didn't have a problem with it."
Bell had a 19-yard touchdown run late in the game, one play after Curome Cox intercepted Rivers and returned it 48 yards. The Broncos got another 15 yards after Rivers ripped off Cox's helmet at the end of the play, drawing a 15-yard facemask penalty.
Brees hurt his right shoulder late in the second quarter. He dropped back to pass in his own end zone and was blindsided by the blitzing Lynch, who hacked at his right arm. Brees fumbled and was hurt when he went for the ball and had defensive tackle Gerard Warren land on him. Denver's Sam Brandon recovered at the 1. Bell scored on the next play to give the Broncos a 14-0 lead.
Local journalism is essential.
Give directly to The Spokesman-Review's Northwest Passages community forums series -- which helps to offset the costs of several reporter and editor positions at the newspaper -- by using the easy options below. Gifts processed in this system are not tax deductible, but are predominately used to help meet the local financial requirements needed to receive national matching-grant funds.
Subscribe to the sports newsletter
Get the day's top sports headlines and breaking news delivered to your inbox by subscribing here.
---