News > Features
She's a character
Mon., Jan. 23, 2006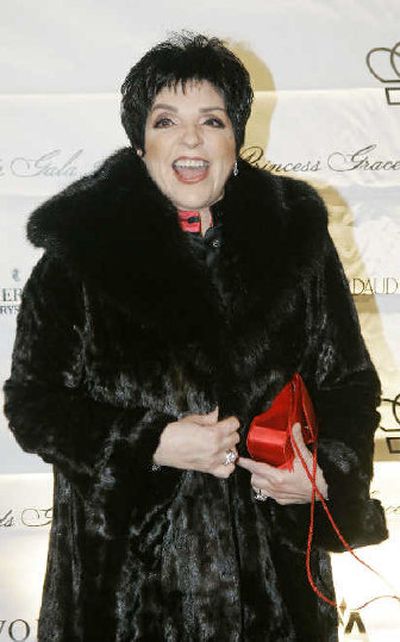 Liza Minnelli turns 60 in March, but she still belts it out to the back row.
That applies whether she's doing a rafter-rattling rendition of "New York, New York" – such as the one she provided recently at the inauguration of Mayor Michael Bloomberg – or a blustery chat about this business called show.
"I go to dance class every morning for an hour and a half," Minnelli announces cheerfully, in response to the suggestion that it's hard work to keep singing and dancing for more than four decades.
"Luigi, my dance teacher, he's 80 and he's still doing it, so I figure I'm in good shape."
That observation, like many of Minnelli's pronouncements, is punctuated by a formidable gale of laughter. More than an entertainer, Minnelli is a character.
The show-business daughter of Judy Garland and director Vincente Minnelli, Liza – a first-name-only star a la Cher, and before Beyonce – is the kind of show-biz creature that they don't make anymore.
In recent years, her off-stage exploits have obscured a talent that has yielded trophies at the Academy Awards, the Tonys and Emmys, as well as gold records.
Instead of belting out songs, the headlines have been about belting chauffeurs and weathering a dysfunctional marriage to and estrangement from concert promoter David Gest.
In the best Broadway tradition, the show goes on. Minnelli has endeared herself to a new, younger audience with a recurring role on the edgy Fox TV comedy "Arrested Development," where she plays Lucille, a widow with vertigo who becomes flaky Buster's girlfriend.
She joined the cast at the suggestion of producer Ron Howard, who once starred as a child actor in "The Courtship of Eddie's Father," a 1963 film directed by Minnelli's father.
"Ron knew I was funny and he called me up and said, 'Do you want to do something?' " says Minnelli, who takes pride in the fact that she does her own stunts – even with two hip replacements.
"(Lucille) has vertigo and falls down a lot. On the first day, they had a stunt double there with a lot of pads on and I said, 'What do you mean?' I went to Luigi and worked three hours on how to fall down."
If Minnelli's popularity in the role is partially a byproduct of her tabloid celebrity, it doesn't seem to dawn on her. Besides, it's not as if her world revolves around a silly TV show.
She's also working on a new album, a collaboration with Michael Feinstein on a collection of songs by her godmother, Kay Thompson, a famous nightclub singer, arranger and author of the Eloise children's books.
There's also a brief role as a sex therapist in "The OH in Ohio," a film starring actress Parker Posey.
In her spare time, Minnelli is working on a screenplay for another movie, which she describes only as a New York story "about a woman who owns a club downtown and the people who come every night to get up and sing."
In typical Minnelli fashion, she's incapable of settling on a specialty. It's a trait that has guided her career from her first film role as a baby opposite her real-life mother in 1949's "In the Good Old Summertime," to her first Broadway starring turn in 1965 to her career-defining, Oscar-winning role in the 1972 film "Cabaret" to "Liza with a Z," an Emmy-winning TV special that same year.
A digitally remastered "Liza with a Z" will premiere March 13 in New York"s Ziegfeld Theater, where "Cabaret" made its debut, before hitting Showtime and DVD in April.
The special captures Minnelli at the height of her career, a gorgeous, gregarious showstopper. What's it like for her to see it again now?
"I think it's wonderful," she exclaims. "It's so brilliant because it's Bob Fosse's great, great work on stage and his great film work. It's a lost masterpiece."
Has Minnelli learned or lost anything in the years since? It's more the former than the latter, she says.
"As you grow older and learn more, it's about the subtleties in things I didn't see before.
"When you first start out, you fling your arms out to the side," she explains. "Then you hit 40 and you gesture your arms to the side. Then you hit me and you just raise your hand."
Local journalism is essential.
Give directly to The Spokesman-Review's Northwest Passages community forums series -- which helps to offset the costs of several reporter and editor positions at the newspaper -- by using the easy options below. Gifts processed in this system are not tax deductible, but are predominately used to help meet the local financial requirements needed to receive national matching-grant funds.
Subscribe now to get breaking news alerts in your email inbox
Get breaking news delivered to your inbox as it happens.
---