It's north to Alaska for Zyetzs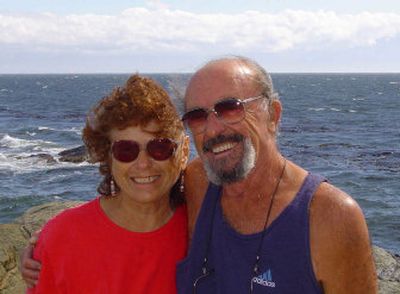 Alice and Chuck Zyetz lived on the road full time for a decade – and loved every minute.
"Back in the summer of 1993," said Alice, an author and former communications consultant, "we took a three-month trip to see if we could live on our retirement income in a little 211/2-foot fifth wheel trailer."
That trip began the Zyetzs' love affair with RVing.
"We came back from touring the Oregon Trail and decided that was it. We had to do it," reflected Alice during a recent telephone call.
They sold their house in Los Angeles and over the next 10 years they crisscrossed the United States, Mexico and Canada – logging in close to a quarter-million miles on their 1992 one-ton Dodge.
In 1998 they upgraded their RV to a new 32½-foot Alfa fifth wheel with two slide-outs. "It was like moving into a castle after our smaller rig," said Alice.
During their travels, they connected with local people through their music (Chuck plays banjo, Alice plays guitar), Tournament Bridge, square dancing and their genuine interest in people.
"I love the scenery, the mountains and the desert," said Chuck, a retired engineer, "but meeting new people is the most fun."
Along the way, Alice has written two books and co-authored two others (see below). As a monthly columnist for RV Lifestyle (www.rvhometown.com), Alice ferrets out other travelers' special interests.
In late 2003 the Zyetzes decided to leave the full-time RVing life and settle in the Jojoba Hills SKP Resort, a cooperative Escapee RV Club park nestled in the high desert northeast of San Diego.
These days they RV part time and are planning a six-month trip to begin in the spring. They will be pulling a 1988 26-foot fifth wheel Vacationaire with a 1993 3/4-ton Dodge.
"I would have preferred a small motor home," said Alice, "but Chuck loves the truck and trailer combination."
"We plan to boondock a lot along the back roads," said Chuck, "and the fifth wheel is easier driving with the articulation in the middle."
Beginning in April they will head north, first visiting family near Los Angeles. Then they will be off to Chico, Calif., for the Escapees RV Club's Spring Escapade where they will connect with old friends, make new ones and Alice will do a workshop about writing on the road.
From Chico, halfway between Seattle and San Diego, they'll follow the blue line highways through the Pacific Northwest and on to Alaska.
They will be leaving the Lower 48 sometime in early May and come back through Washington sometime toward the end of September.
"We are ignoring fuel costs," said Chuck. "We're getting along in years and don't know if we'll make this trip again."
For more information
Details on Alice's books and columns are available at RV Hometown (www.rvhometown.com) or write to Pine Country Publishing, 127 Rainbow Drive, No. 2780, Livingston, TX 77399-1027; or call (928) 607-3l81.
•Her books include: "Taking the Mystery out of Retiring to an RV" (CD book, $12.95); and "You Shoulda Listened to Your Mother: 36 Timeless Success Tips for Working Women."
Two books she co-authored with Jaimie Hall are: "RV Traveling Tales, Women's Journeys on the Open Road" ($14.95); and "The Woman's Guide to Solo RVing" (CD book, $12.95).
•Back issues of Alice's RV Lifestyle columns, "Full-time RVing: More than Beautiful Scenery," are also available at www.rvhometown.com.
•Escapees RV Club can be reached at www.escapees.com or by calling toll free at (888) SKP-CLUB (757-2582).
•Jojoba Hills SKP RV Resort's Web site is www.jojobahills.com.
•Alfa fifth wheel trailers and motor home information at http://alfaleisure.com.
RV 101 classes
There are still slots available in two RV classes being offered through the Spokane Community Colleges' Institute for Extended Learning.
Each meets one-time only for three hours beginning at 6:30 p.m., costs $21 and takes place at Sullivan Square in Spokane Valley.
RV Basic Training is scheduled for Feb. 15 (course number 7321). The RV Care and Maintenance workshop is being offered on Mar. 8 (course number 7322).
All classes include handouts. To register, call 279-6000 or stop by the IEL office at 3305 W. Fort George Wright Drive between 8 a.m. and 4:30 p.m., Monday through Friday.
Wheel question
At the RV show last week, a lot of folks wanted to know about places (recommended by other RVers) to visit within a three-hour drive of Spokane.
If you have camped in a public or private RV park in Eastern Washington, North Idaho or southern British Columbia that you would recommend, please e-mail juliannec@spokesman.com or call 459-5435. Let us know why you liked it.
---