News > Spokane
Expert quits police probes
Fri., July 28, 2006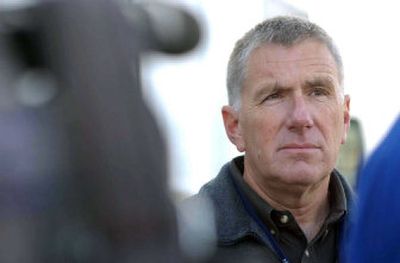 The outside investigation into the Spokane Police Department's controversial handling of two high-profile cases will be conducted by a law enforcement service group from Olympia and a Kentucky-based consulting firm.
But a lead member of the review team, Washington Association of Sheriffs and Police Chiefs Executive Director Don Pierce, withdrew Thursday after questions arose over the circumstances surrounding his 2004 departure from the Boise Police Department.
Spokane Mayor Dennis Hession said he didn't know that Pierce resigned under pressure from his job as Boise police chief following a mayoral corruption scandal. Pierce had overseen an initial investigation that found no criminal wrongdoing by former Boise Mayor Brent Coles, who later pleaded guilty to misusing public funds after the Idaho Attorney General's office took over the case.
Deputy Mayor Jack Lynch said Pierce has a "sterling reputation" and that the contentious political fallout from his tenure in Boise was irrelevant.
"It doesn't diminish his ability to look into this," Lynch, responding to questions from Spokesman-Review reporters, said of Pierce. "It has no bearing."
But an hour later, Hession announced through a spokeswoman that Pierce would no longer be part of the review team.
"Following media questions about his service in Boise, Pierce determined that he would not participate but allow others from WASPC to handle the review to avoid any distraction surrounding this important issue for Spokane," said Marlene Feist.
Pierce couldn't be reached for comment Thursday afternoon.
Feist quoted him as saying, "This isn't about me. It's about doing what's best for Spokane."
Hession, in his earlier press conference, agreed, saying the outside review is necessary to quell public doubt about how the Spokane Police Department handled the investigations into the death of Otto Zehm and a firefighter who had sex and took sexually explicit photographs of a 16-year-old girl inside a fire station.
"These two cases have raised questions about the credibility of our law enforcement officers and the safety in which people feel in their presence," Hession said. "The citizens deserve some answers."
Hession asked officials from the U.S. Attorney's Office, Washington State University and the Washington State Patrol for advice on picking an outside agency. They all suggested WASPC, Hession said. The city then contacted Pierce.
"We expressed to him our serious concerns and the nature of this review and he said he would take a personal interest in doing that," Hession said. "WASPC has a well-rounded group of experts that they use to assist in these kinds of investigations."
Pierce agreed to review the department's policies, procedures, communications and training.
But he suggested that Spokane also hire Mike Worley, of Police Practices Consulting LLC, which is based in Louisville, Ky.
Worley, the former police chief in Meridian, Idaho, will focus on the Zehm and firehouse cases while also reviewing the effectiveness of the city's Citizens' Oversight Commission, Hession said.
"We expect that if there are any problems that come out of those investigations that we will move immediately to respond," Hession said.
Worley, who also worked under Pierce in Boise, will review how detectives conducted the investigation into the death of Zehm, a 36-year-old mentally ill janitor who died two days after a March 18 confrontation with seven officers.
Worley will also review how the department handled the investigation into former Spokane firefighter Daniel Ross who admitted having sex with a 16-year-old girl at a fire station Feb. 10. Attorneys for the girl have filed a $1 million wrongful conduct claim against the city.
The combined cost of the Worley and WASPC reviews is estimated at $11,000, which Hession said is a reasonable amount considering the need for the city to maintain public confidence in its police department.
"We wanted to go outside and make sure that people had comfort to know that we had some objectivity here, some distance between the investigations and the existing police department," Hession said.
Local journalism is essential.
Give directly to The Spokesman-Review's Northwest Passages community forums series -- which helps to offset the costs of several reporter and editor positions at the newspaper -- by using the easy options below. Gifts processed in this system are not tax deductible, but are predominately used to help meet the local financial requirements needed to receive national matching-grant funds.
Subscribe now to get breaking news alerts in your email inbox
Get breaking news delivered to your inbox as it happens.
---