News > Spokane
Man's lost life is reborn at graveside memorial
Sat., July 29, 2006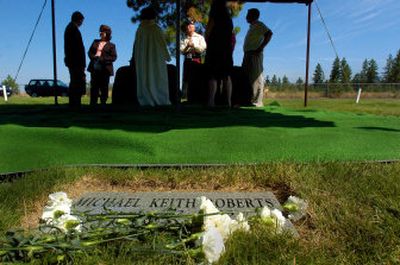 When Michael Keith Roberts was born in 1953, his parents chose his name, tethering him to family. They could not know then that Michael would be overrun by mental illness, untether from his family and die alone at age 30 in downtown Spokane with the generic name John Doe later assigned to him.
At 10 Wednesday morning, a dozen of us gathered at Fairmount Memorial Park in Spokane to say goodbye to Michael. His name and identity were reclaimed this spring by strangers who never met him in life, who never even saw a photo of him.
Bagpiper Dellas Eaton began a mournful lament, and Martha Lou Wheatley-Billeter cried soft tears. She is 52, the public information and communications manager for Spokane County. In 1983, she was a young broadcast journalist. A story ran in The Spokesman-Review about a John Doe found dead of natural causes in a van parked in downtown Spokane. Riplinger Funeral Home did a short service. No one attended.
Martha Lou tucked that story into a heart well-versed in grief. When Martha Lou was 20, her beloved mother died of cancer, and she still appreciates the community's outpouring of support.
In May, she heard that Spokane County Medical Examiner Sally Aiken, and her staff, had worked diligently to identify this John Doe whose spare funeral had haunted Martha Lou for years.
She wished to put Michael to rest among community. She contributed money toward Michael's $473 headstone, as did medical examiner staffers and Spokane Professional Transport, the company that transports bodies for the medical examiner.
The florists who own Peters and Sons donated white carnations. Martha Lou asked "Mother Elaine" – the Rev. Elaine H. Breckenridge of St. David's Episcopal Church – to preside at Michael's service. She was honored. The employees at Fairmount prepared for Michael's service as if he died a dignitary.
Mother Elaine gathered us together in front of Michael's grave. Martha Lou read from Ecclesiastes: "For everything there is a season, and a time for every matter under heaven: a time to be born, and a time to die."
Mother Elaine said, "As we unveil and bless this headstone, we celebrate that what was lost has been found."
She quoted theologian Florence Perrella Hayes, who wrote: "A name should be an expression of our essential selves. Where have you come from? Where are you going? We wear a public name, infuse it and shape it, a key for those who care."
Martha Lou sang "Amazing Grace." We placed sunglasses over our eyes to shutter the tears.
They spoke of Michael then, the medical examiner staffers who had worked so hard to discover his name. They expressed compassion for his family. They understand why Michael's family abandoned him in life and again in death. He was mentally ill in a time before our society understood it as we do now. He wore out his family with delusions, paranoia and restlessness. So strangers stepped in for the family who could not.
We placed white carnations on Michael's grave as bagpipe lamentations filled the still and hot July air around us. No one ever reported Michael missing. His name remained a mystery in coroner files for 23 years.
Martha Lou said, "To speak the name of the dead is to give them life again."
The season of searching for Michael came to a close Wednesday, as his life was celebrated by those who knew little but the saddest bits of it. After his memorial, we dispersed to busy lives where people know our names and would report us missing were we to be lost for even one day.
Local journalism is essential.
Give directly to The Spokesman-Review's Northwest Passages community forums series -- which helps to offset the costs of several reporter and editor positions at the newspaper -- by using the easy options below. Gifts processed in this system are not tax deductible, but are predominately used to help meet the local financial requirements needed to receive national matching-grant funds.
Subscribe to the Coronavirus newsletter
Get the day's latest Coronavirus news delivered to your inbox by subscribing to our newsletter.
---