CdA's Linda Lunch club is making a name for itself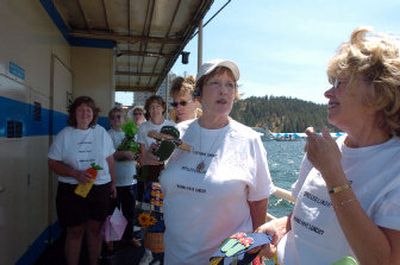 Linda \ lin-dah \ 1: derived from the Spanish word for beautiful 2: one of the most popular names during the 1950s for girls 3: North Idaho social club for women of the same name.
No Lyndas or Berlindas allowed. Only women named Linda may join a social club created last year in Coeur d'Alene.
About 40 women from North Idaho – and at least one from Spokane – have already joined the Linda Lunch club, where name tags are never needed and the only purpose is to have a good time.
"It's nice when you meet for lunch and can just say, 'Linda, do you mind if I sit by you?' " joked Linda Green, a Coeur d'Alene resident.
Such a club might sound absurdly random, but other groups are based on nothing more than owning the same brand of motorcycle, or cheering for the same sports team. The idea for Linda Lunch sprouted last year when Linda Shane was shopping for yarn at a Coeur d'Alene craft shop. She happened to strike up a conversation with another Linda. Then, a third Linda wandered past.
"I said, 'We've got to have a Linda lunch,' " Shane recalled.
Word spread and the group has since met about a half dozen times, including for a lunchtime cruise Saturday on Lake Coeur d'Alene. The members brought basket lunches, which they auctioned off. Proceeds will eventually be given to a cause, though the group has not decided on a recipient.
"We like to help out other Lindas," Shane said.
Mostly, however, the nonprofit club meets every other month simply to have fun. Annual dues are $15 and include a newsletter.
Nearly all of the group's members are solidly middle age – a fact that testifies to the 1940s and 50s, when Linda was the first- or second-most-common name for girls. About 3 percent of all girls born in the United States during this time were given the name, according to information from the Social Security Administration's Web site.
The name's popularity was sparked in part by the 1946 song "Linda," written by Jack Lawrence. The song was a tribute to his friend's daughter, Linda Eastman, who eventually married Paul McCartney.
The song was a huge hit after being sung by Buddy Clark. Bing Crosby, Willie Nelson and Frank Sinatra, among others, sang cover versions.
The name has since hit a major slump in popularity, and club members are constantly searching for that rare species of young Linda. Shane saw a birth announcement several months ago for a baby in Spokane named Linda. "I'm going to be getting in contact with her somehow," Shane said.
The name is currently ranked 416th in popularity – a couple notches below Lexi and Marisol, but slightly more common than Aurora or Perla. Topping the name charts these days are Emily, Madison and Hannah, according to federal records.
Club member Linda Pry, a teacher from Post Falls, said she has had only one student in the last 30 years with the same given name.
"Yeah, it's kind of sad. I'd like to see the name come back," Pry said, shortly before setting sail on the lunchtime cruise Saturday.
Linda Green agreed: "Now they're all named Heather, or something like that."
---