Project trying to find recipe for greenest mine reclamation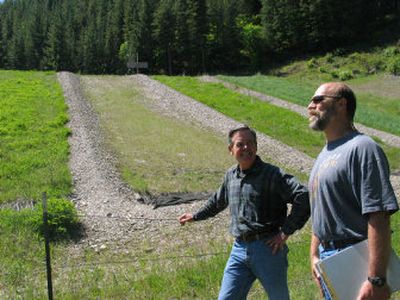 OSBURN, Idaho – After the silver, lead and gold is dug from deep below North Idaho, mountains of waste rock remain.
The state is now in the midst of a five-year, $175,000 experiment to find a better way to cover these heaps of rock with green blankets of grasses and shrubs.
The project is taking place on a hillside behind a Silver Valley mobile home park. Ten identical plots of waste rock behind the park have been covered with mixes of soil or soil substitutes, including log yard waste, composted human sewage and a spray-on, rock-busting cocktail of organic enzymes, bacteria and fungi. The plots have been planted with exactly the same mixes of grass and legume seeds.
Four years into the experiment, the hillside is now striped with shades of green. The site can be spotted about a mile east of Interstate 90's Big Creek exit, on the south side of the highway. The waste rock is from the Silver Dollar Mine.
Steve McGeehan, a soil scientist and analytical chemist from the University of Idaho, designed the experiment for the Idaho Department of Environmental Quality. McGeehan is also helping to manage the site and observe the growth patterns.
Mine reclamation is a huge industry worldwide, and interest is running high in what growth mediums appear best at covering waste rock with a living cap of plants. Results won't be published for another year.
"We're not trying to pick a winner, we're trying to develop a toolbox," McGeehan said.
McGeehan is happy to talk about the research, but he refuses to discuss specifics on performance and price differences. Releasing such information before the study is completed could taint the data. Each growth medium has ups and downs, he said. The log yard waste, for instance, was inexpensive, but it took a while to begin breaking down and growing grass. Now it's thick and lush.
Previous studies have tested individual products, but McGeehan is not aware of any experiments where so many growth mediums have been tested side by side.
Topsoil is typically the most effective for growing grass atop mine waste, said Nick Zilka, with the Idaho Department of Environmental Quality. In recent years, there's been a surplus of topsoil in North Idaho, as developers scrape the land for new houses. Hundreds of loads of soil have been trucked in to replace contaminated yards at homes in the Silver Valley. The soil contained dangerously high levels of lead and other heavy metals from decades of smelter operation.
Hundreds of defunct mine sites across North Idaho remain surrounded by heaps of waste rock, Zilka said. Getting topsoil to these sites is often expensive, if not impossible. That's why the state is testing locally available materials like log yard waste and composted sewage. Spray-on mixtures might be a good option where the best access is by helicopter or horse.
Information gathered at the site will also help develop erosion control treatments at highway construction sites or other building projects, Zilka said.
Left on their own, the heaps of waste rock will eventually break down and be colonized by plants, McGeehan said. But this could take decades or even centuries. Usually the first plants to arrive are invasive weeds, which can grow thick enough to crowd out tree and shrub seedlings. By capping and planting the sites, erosion is reduced and the restorative processes of nature are given a head start, McGeehan said.
---