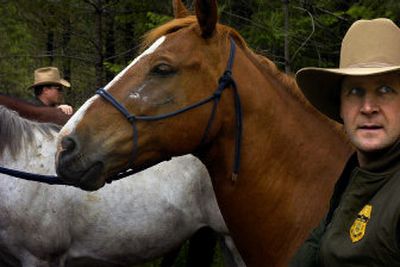 ORIENT, Wash. – After parking his unmarked Chevy Tahoe in a grove of pine trees about a mile south of the Canadian border, Capt. Gary Roman slipped a set of spurs over his boots.
A few minutes later, a local rancher drove up. He was hauling a trailer full of the U.S. Border Patrol's new, semistealth drug-smuggling and terrorist detection weapons: horses. Hap, Jack, Buster, Lurch and Mack would transport Roman and a small team of agents on a daylong patrol last week through the region's steep, thickly forested backcountry.
Although the Border Patrol is increasingly looking to high technology – remote cameras, delicate motion sensors, even flying drones – to protect the country from terrorists, drug smugglers and illegal aliens, the agency is also going back to its roots by deploying some decidedly low-tech tools. Since April, the Spokane sector of the Border Patrol has been using horse patrols along the entire 309-mile stretch of border it oversees between Montana's Rocky Mountains and the east slopes of Washington's Cascade Range.
All seven Border Patrol stations in the sector now deploy regular horse patrols, making it unique among all sectors along the northern border, Roman said. Sector Chief Robert Harris has also recently equipped each of the stations with specially trained human-tracking dogs.
Unlike the busy crossings near Detroit or Blaine, Wash., the Spokane sector doesn't see a lot of activity, Roman said. But the sector includes some of the most inaccessible and rough terrain in the nation. With help from horses, the agency is now able to keep a regular watch on mountains and canyons previously inaccessible to pickups, all-terrain vehicles and snowmobiles.
"You think horses and you think that's what we used 75 years ago," Roman said, as he heaved a leather saddle atop a gelding. "For one thing, they're quiet. They're also faster than an agent on foot, and they're going to let you know somebody is out there long before you would know it."
On Monday, agents Roman, Allen Foraker and Joe McCraw used horses to patrol Owl Mountain, about 120 miles north of Spokane. After clomping across U.S. Highway 395, the agents headed up an old dirt trail through the Colville National Forest. They wore cowboy hats, spurs and their green uniforms. Along with their .40-caliber semiautomatic handguns, they carried radios, rain slickers, an extra radio battery, a knife, their lunches and a GPS unit to mark locations of suspected smuggling trails. They left their portable radiation detectors sitting on their vehicle dashboards – the devices have been standard issue since 9/11.
Although the top priority of the Border Patrol is to catch terrorists, much of the Spokane sector's work involves stopping the smuggling of British Columbia-grown marijuana – known as B.C. bud – and the northbound trafficking of cocaine. Since the 2001 terrorist attacks, the Border Patrol has tripled the number of agents posted in the Spokane sector, said Lonnie Moore, an agency spokesman. Although the agents are sometimes seen working with their drug dogs at highway border stations, most of their work involves policing the long stretches of the 49th parallel between stations.
The increase in agents has made it tougher on smugglers, who have had to find new methods to bring their drugs over the border, Roman said, as he led the patrol up a steep, narrow path. "We hit them hard with vehicles, then with boats. Now they're using helicopters and planes to get over us."
The Border Patrol has recently begun a new push to interdict drugs smuggled over the border in small aircraft. Roman expects the crackdown will force more smugglers to return to the forest. These foot smugglers typically haul 20 pounds at a time in backpacks, he said. At $320 an ounce, the payoff is high.
Most of the drug "mules" are young, physically fit men from rural communities near the border, Foraker said. These smugglers know the terrain, they know the harsh weather conditions, and they aren't necessarily drug users. "If you're going to match wits with them, you better eat your Wheaties," he said.
As the trail snaked up the mountainside, it narrowed to the point where it would be impassable by vehicle. Cedar and fir trees blotted out light from the sky. Their branches snapped the faces of the agents. The forest was silent but for the sound of a distant creek and the occasional clicking as agent Foraker spit hulls from the wad of sunflower seeds packed in his cheek.
The horse patrols in the area haven't yet resulted in any arrests, but agents are learning new trails and are able to keep a better watch on possible routes, Foraker said. "We're turning in some good intel because of the areas we're now accessing."
A 21-year veteran of the agency, he fits the classic border agent profile: equal parts Boy Scout and cop. He was raised on a ranch in the Arizona mountains and feels at home on the back of a horse. Most of the time when he patrols, Foraker stares at the ground, looking for footprints, broken brush, cigarette butts or tiny flecks of surveyor's tape.
"When man passes along the face of the earth, he leaves a mark," Foraker said, explaining why he doesn't often gaze at the scenery. "Our whole career is looking at dirt."
As if on cue, Agent McCraw pointed out a fresh pile of bear scat. "Even on vacations we look for sign. It's hard to turn it off," McCraw said. "Actually, my wife is pretty good at cutting sign."
Agents follow even the faintest of clues. If the trail is hot and it leads across the border, they use a shared radio frequency to call for help from their counterparts with the Royal Canadian Mounted Police.
Border Patrol agents have also begun handing out refrigerator magnets with a telephone tip hotline to people living near the border. There's already been at least one drug seizure made from a magnet call, Roman said. Extra help from locals is considered a "force multiplier," he said.
Agents also make a point of chatting with hikers or hunters.
"We talk to everybody," Foraker said. "Generally, within two minutes we know if they belong in this country."
Near the top of Owl Mountain, the agents stopped and peered across the Kettle River Valley. Several years ago, McCraw was up on the mountain at night when he spotted tiny flickers of flashlights through his night-vision goggles. The late-night hikers eventually stopped at a van beside the highway. The dome light inside the vehicle cast shadows on a nearby mountainside of the men loading duffle bags into the van. After watching the smugglers' shadow theater, McCraw radioed other agents, who were able to apprehend the men and 150 pounds of marijuana.
Backcountry drug trafficking has slowed since the 9/11 buildup of agents, said Foraker, who transferred to the Colville station from New Mexico shortly before the terrorist attacks on New York and Washington, D.C. Back then, some shifts along the northern border would go unstaffed because of a lack of personnel. Those were much easier times for the smugglers, Foraker said. Many days he would start a shift by checking smugglers' stashes near the base of Owl Mountain. It was common to find duffels or backpacks hidden in the brush awaiting pickup, he said. Not anymore.
"If they're changing operations, we know we're being effective," Foraker said.
This extra pressure is only expected to force smugglers deeper into the backcountry and onto lesser-used trails. One of the benefits of the horse patrols, Foraker said, is to help agents learn every square foot of their patrol area and keep up with the smugglers.
When the patrol reached an old mine at the top of Owl Mountain, Foraker, McCraw and Roman scanned slopes for signs of trails once used by miners. There are rumors of an old trail leading from British Columbia up to the mine – a possible smugglers' route. Five years ago, agents found a path of broken brush through the area, raising suspicion of illegal activity.
"We've been all over this hill looking for a trail to Canada," Foraker said. "We've never found it."
The agents and their sweat-covered horses broke for lunch at the mountaintop. The horses chomped grass and lupine flowers while the agents sat on the edge of a cliff, eating sandwiches and staring off into the green mountains of British Columbia.
"If people came out and saw what we see, they'd be flooding our recruitment center," Foraker said. "This is heaven."
President Bush is promoting a plan to hire up to 6,000 new agents in coming years. Before any get a shot at riding horses through the wilds of the Inland Northwest, they'll have to learn Spanish and begin their careers with a stint along the busy border with Mexico.
The relatively slow-paced backcountry of Eastern Washington feels like a different galaxy from the southwest, where agents sometimes apprehend dozens of illegal aliens at a time, said Roman, the patrol captain. Up here, days can go by without seeing suspicious activity. It takes a trained eye and special discipline to keep watch over these lonely stretches of the border, Roman said, climbing his horse to finish the day's patrol.
Every agent's nightmare is for a terrorist to slip through their sector. "We just can't let that happen," Roman said.
---