News > Spokane
River among most polluted
Fri., June 23, 2006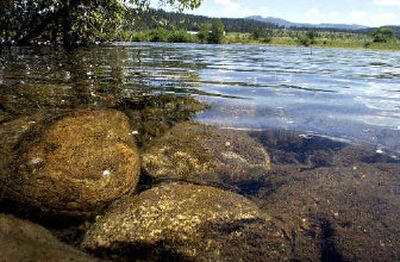 The Spokane River is contaminated with more of a potentially harmful fire retardant than any other waterway tested in the state, according to state studies released Thursday.
The reports also show that the river continues to contain more adverse chemicals and metals compared with other bodies of water statewide. However, the news wasn't all bleak: Officials say there has been a decline in PCB levels (mixtures of man-made chemicals) in fish over the past decade.
"We realize that this is going to be a major, long-term effort," said Jim Bellatty, Department of Ecology's water quality section manager. "We're just going to have to all work together."
The reports were completed as part of a cleanup process mandated by the Environmental Protection Agency, which lists the river as "impaired." The state will next work with industry and local leaders to create cleanup plans.
The fire retardant, polybrominated diphenyl ether or PBDE, is used in numerous products including furniture, carpet padding and appliances.
Tests on lab animals suggest the chemical has harmful effects on brain and reproductive organ development, among other problems. PBDE levels in people's bodies have been steadily increasing, Ecology officials say.
The origin of PBDEs in the river is unclear. Particularly high levels of it were found in fish near Nine Mile Falls, according to the reports.
There are no state or federal standards on PBDEs and it's unclear what a safe level is, said Dave Peeler, Ecology's water quality program manager.
Other studies released Tuesday found that the river continues to have elevated amounts of zinc, lead and polychlorinated biphenyls or PCBs – chemicals used in inks, paints, lubricants and other products until banned by the EPA in 1979. Although PCB levels in fish remain higher in the Spokane River than across the state, the amount of PCBs has declined since 1999. A notable exception, however, was found in fish near Mission Park.
Fish advisories in effect since 2003 because of elevated PCB levels will remain in effect. The Spokane Regional Health District advises that fish should not be eaten if caught from the Idaho border to the Upriver Dam. Between the Upriver and Nine Mile Falls dams, the district advises eating no more than one fish a month. All fat from fish caught anywhere in the river should be cut off before cooking.
"The good news is that the PCB levels are declining," said Dave McBride, a state health department toxicologist. "We're not exactly sure why, but it's good news."
The report says the decline could be the result of stricter wastewater discharge permits and improvements made at Kaiser Aluminum's Trentwood plant.
"We don't want to scare people away from eating fish," McBride said, noting that fish are a good source of protein.
Even with the possible fall of PCBs in fish, several locations remain well above federal and state standards for PCBs. And because the Spokane Tribe of Indians' standard is 50 times lower than the state's, the river in the Spokane area eventually must meet a much stricter standard so that by the time water reaches the tribe's reservation, PCB levels attain the tribe's goal.
"We've agreed that the state standard is not going to be enough," said Bellatty, the water quality section manager.
Later this year, the department will cover heavily contaminated sediment near the Upriver Dam with sand, rock and other material to prevent PCBs from flowing in the river. Other projects are planned to remove heavily contaminated dirt from other parts of the river.
Local journalism is essential.
Give directly to The Spokesman-Review's Northwest Passages community forums series -- which helps to offset the costs of several reporter and editor positions at the newspaper -- by using the easy options below. Gifts processed in this system are not tax deductible, but are predominately used to help meet the local financial requirements needed to receive national matching-grant funds.
Subscribe now to get breaking news alerts in your email inbox
Get breaking news delivered to your inbox as it happens.
---