News > Features
Chalk it up to a drive to be unique
Mon., June 26, 2006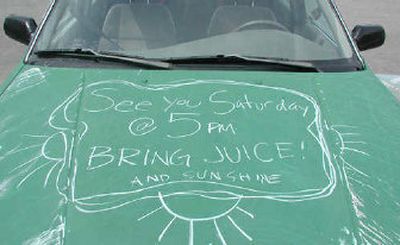 Go ahead and blink but you're not imagining things. This car is a chalkboard.
Spokane's Shannon Zaranski passed this photo along to me. Zaranski recently moved into my neighborhood and one day drew a small crowd when her friend came by with her "art car."
Tugging on my arm, my 5-year-old daughter was just dying to check it out.
You see, kids were writing on it. Yes, writing on the car.
Suddenly the blank slate of our driveway was as boring as one of Dad's scenic drives.
At first kids are hesitant to draw on it, Zaranski said. But after a little coaxing and reassuring them that it's OK, most eagerly start scribbling. And then along comes a little guy with a damp rag and the fun starts all over again.
Zaranski said her friend, who recently moved to Portland, was looking for a way to turn her old car into an "art car." Thumbing through a book from the library about art cars, Zaranski said they saw the chalkboard car and deemed it perfect.
It is perfect for families – if you happen to have a car you're willing to sacrifice.
Chalkboard paint is readily available in home improvement stores. The Lowes' Web site states, "Chalkboard spray paint can be used on walls, floors, tabletops or any flat surface for artwork or playing games. Creating a chalkboard with chalkboard spray paint is an easy and inexpensive project."
An Internet search uncovered families that painted dressers, tabletops, refrigerator doors and even entire walls with chalkboard paint. But moms I've talked to agree that a chalkboard car has one distinct advantage: It keeps the chalk dust outside.
Local journalism is essential.
Give directly to The Spokesman-Review's Northwest Passages community forums series -- which helps to offset the costs of several reporter and editor positions at the newspaper -- by using the easy options below. Gifts processed in this system are not tax deductible, but are predominately used to help meet the local financial requirements needed to receive national matching-grant funds.
Subscribe now to get breaking news alerts in your email inbox
Get breaking news delivered to your inbox as it happens.
---