News > Features
Fun-filled summer: There are plenty of things to do to keep the kids busy
Mon., June 26, 2006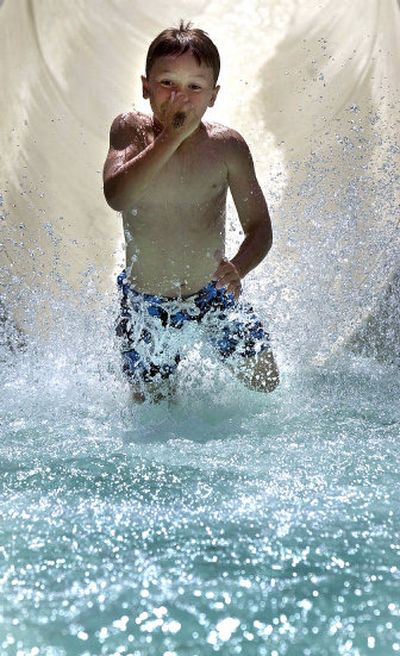 Despite video games, iPods, TiVo and the Internet, nothing beats a good old-fashioned water balloon toss (or fight) for summer fun.
In fact, based on suggestions for summer fun from the families of The Spokesman-Review's Parents' Council, many tried-and-true ways of passing long summer days still rank high among kids' favorite things to do when they're not bound by school schedules.
From turning over rocks and uncovering nature's treasures to camping out in the backyard, there are lots of things to do this summer that don't require a long trip in the car, cost a fortune or take a spreadsheet to plan.
"When my children were young they always loved to organize neighborhood events," Lisa Erickson, a mother of six grown children, told us. "We had talent shows, mini Olympics, (with canning lid medals), obstacle courses, outdoor movies, plays and puppet shows. They would get their friends around the neighborhood and work for a while on something and then put it on."
Stephanie Regalado, who has three young children, told us: "Five-and-a-half-year-old Christopher is all about bugs! He likes to search for them all day long; setting up elaborate bug habitats based on the locations he discovered the bugs. He quickly learns which bugs absolutely cannot be paired in the same habitat. He observes the bugs for a day or two, and then sets them free — just in time to start all over again!"
Many families said that riding bikes and having fun with water balloons are favorite pastimes, along with blowing bubbles and creating masterpieces with sidewalk chalk.
John and Lisa Irby's 7- and 10-year-old sons offered their ideas of fun: spitting sunflower seeds at the Little League games, barbecues (with hamburgers, not hot dogs), playing ball with friends, sitting on the swing and eating beef jerky on the porch.
And yes, boys and girls may have different ideas of what's fun.
"I took a vote and the boys said camping out in the back yard was by far the best fun thing to do in summer," wrote Dollie Robin, mother of five children between the ages of 9 and 20. "The girls said having a game night with different families in the neighborhood — cards, board games and food — followed by a late night movie."
For the littlest ones, pretend play can consume hours.
"All three of my little ones love to play restaurant or kitchen outside, serving up delicious and increasingly beautifully presented meals from nature," Regalado told us. "Mud or sand mixed with just enough water and garnished with grasses, flowers, herbs (mint, basil, chamomile, chives that grow plentiful in the herb garden), then placed in perfectly sized dishes …. The kids take turns taking our orders on a pad of paper."
Of course, getting wet helps summer go down.
Playing on a Slip-and-Slide, swimming, wading, ice blocking, running through sprinklers and spraying others with squirt guns are popular with families. Laurie Rogers told us one of her 8-year-old's favorite things to do is wash the car because "at her age, it's still fun because we can soak each other."
Of course a trip to a local park with spray fountains or places like Splash Down and Boulder Beach rank high among as well.
And food is always popular.
Going on picnics (even just in the front yard), making ice pops and ice cream and baking yummy treats create fun afternoons for kids of all ages, several families told us.
Bonding time is important, as many families reported that "fishing with Dad" was one of their kids' favorite summer activities.
Getting a change of scenery works wonders for fighting summer boredom.
Rogers told us her daughter likes to play at different parks around the region. From Fort Sherman in Coeur d'Alene to Riverfront Park and the many in between, visiting a different park each week makes for a fun outing.
For Lisa Paolino, digging in the garden, watering the flowers and sleeping in a fort keep her kids happily busy in summer.
Sometimes, not doing much works, too.
Mikayla Daniels' 4-year-old said one of his favorite things to do is to "sit outside at night and listen to the frogs and crickets and ducks down by the pond."
Similarly, Rogers' daughter likes to "look at the night sky with binoculars or a telescope."
Sheleis Mather's 2-year-old reported that "blowing bubbles, picnic lunches and feeding apples to a horse" are great summer activities.
Frank Cruz-Aedo's 8-year-old son likes making tents in the living room and building sand castles while his 7-year-old daughter likes writing in her diary, listening to music and reading.
Recently, Susanne Tuson's teenage daughter, Lindsay, came up with a list of things she wants to do this summer. Her mom passed it along:
"I want to …
go mini golfing,
go on an island picnic,
make shapes out of the clouds,
to bring a loaf of bread to Riverfront Park and feed the ducks,
ride the Carousel,
turn on corny music and try to ballroom dance,
build a sandcastle,
let go of helium-filled balloons in the middle of a meadow,
bake cookies,
eat a whole tub of ice cream and watch "The Notebook,"
make a HUGE tray of nachos and only eat a few, so I get in trouble for wasting chips,
go snorkeling,
have a rap battle,
wish on stars,
play "Job for a Day" or another pointless game,
go hiking,
go out in the rain and spin around,
go on roller coasters and waste $10 on a picture of us making dumb faces,
experience an hour of silence, an hour of yelling, an hour of crying and an hour of laughing."
There were so many suggestions the dozen or so families came up with, we can't list them all. Here are just a few more: going on treasure hunts, making homemade movies, doing crafts, playing card games or board games, talking on the phone with grandma and grandpa, browsing books at the library or a bookstore, hiking with the family, picking huckleberries and visiting historic buildings around town (especially ones with revolving doors).
Local journalism is essential.
Give directly to The Spokesman-Review's Northwest Passages community forums series -- which helps to offset the costs of several reporter and editor positions at the newspaper -- by using the easy options below. Gifts processed in this system are not tax deductible, but are predominately used to help meet the local financial requirements needed to receive national matching-grant funds.
Subscribe now to get breaking news alerts in your email inbox
Get breaking news delivered to your inbox as it happens.
---