News > Spokane
Washington law fights cost of textbooks
Fri., March 17, 2006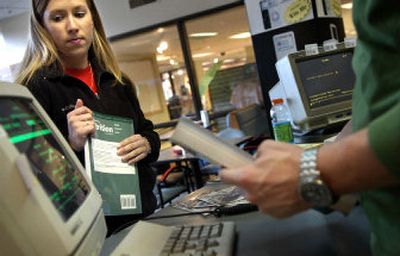 Sometimes a textbook is not just a textbook.
In more and more cases, it comes shrink-wrapped with a CD, computer program or supplemental text – extras that critics say drive up the price but frequently go unused.
"I had one professor in my four years request that we look at one of the software programs on the CD," said Daniel Shafar, a Washington State University senior studying engineering.
Shafar, director of legislative affairs for WSU's student government, was among student lobbyists who helped drive through a new law seeking to give students more choices and information, and to encourage low-cost alternatives in college bookstores. Rep. Timm Ormsby, D-Spokane, was the prime sponsor of the bill, which Gov. Chris Gregoire signed into law on Wednesday.
The law targets two major complaints about the college textbook sales – that publishers are "bundling" textbooks with expensive and sometimes unnecessary extras, and editions are sometimes updated with few real changes.
Both scenarios make it harder for students to buy used books. Critics have been turning up the heat on publishers, with legislation similar to the new Washington law proposed in several states.
"Publishers are ripping off students," said Dave Rosenfeld, the national director of student organizations of the Public Interest Research Group, which have been among the loudest critics of textbook practices. "Students are suffering, and it's totally outrageous."
Bruce Hildebrand, a spokesman for the American Association of Publishers, said publishers are providing technological additions that students and faculty members want, and the majority of students do use the supplements and benefit from them. He also said that if publishers are forced to provide both bundled and non-bundled books, overall costs could rise.
"The publishers are caught between a rock and a hard spot," he said. "Students want (new technology), faculty want it, colleges want it."
Textbook prices have been rising faster than inflation for 20 years, according to a federal report issued in August. The General Accounting Office report specifically targeted bundling and rapid changes in editions as reasons for the price increases.
The average student at a four-year school spent about $900 on books and supplies in 2004 – more than a quarter of the cost of tuition, the GAO report said.
Some bookstore officials say the new Washington law makes some faulty assumptions – that "many" faculty members choose books without regard to costs, for example – and asks schools to take steps they're already taking.
"I don't think it's necessary," said Bob Anderson, director of Eastern Washington University's bookstore. "I don't see it lowering prices to the students, at least not at Eastern."
Anderson said just 16 of more than 1,200 titles in his bookstore are bundled. "That comes to 1.3 percent of our titles," he said.
But others say they're seeing much more bundling. Rosenfeld said more than half of the most purchased textbooks nationwide are bundled. Shafar, WSU's student lobbyist, estimates that more than half of his books have been bundled.
Pat Wright, general manager of the Bookie system, WSU's bookstores, supports the new law.
"We definitely are seeing much more bundling than we ever have in the past," she said. "Unfortunately, publishers penalize you if you don't want the bundle and charge more for the book (alone) than the bundle."
The law requires bookstores at public colleges to offer unbundled versions of textbooks "when possible." It suggests that faculty and staff "consider the least costly practices" in assigning texts. It orders schools to promote buyback programs for used books and disclose "retail costs" for course material.
Critics complain that such language is vague. The bill orders regents and trustees to carry out the specifics at public universities in Washington – it does not require the same thing in community or technical colleges.
Anderson said he thinks his bookstore and EWU's faculty already work hard to keep costs down. EWU is in the middle of a buyback promotion, with signs posted around campus, advertising and offers of a drawing for free iPods. At the buyback desk Wednesday, students said they welcomed anything that would offset the expense of textbooks.
"It's always expensive for us," said Filmon Gebrekristos, 24, a sophomore from Seattle.
Gebrekristos is familiar with one of the common scenarios pointed out by many textbook critics: Editions can change so fast that stores often can't buy used books.
"A couple of things changed, and now you have that book," he said, standing by EWU's buyback booth. "You can't sell it to these guys."
Wright said she understands that books sometimes need to be updated.
"Tax laws change. Sciences and technology change," she said. "But Shakespeare only wrote his plays once. The Bible was only written once. I kind of scratch my head when I see all of these new editions."
Local journalism is essential.
Give directly to The Spokesman-Review's Northwest Passages community forums series -- which helps to offset the costs of several reporter and editor positions at the newspaper -- by using the easy options below. Gifts processed in this system are not tax deductible, but are predominately used to help meet the local financial requirements needed to receive national matching-grant funds.
Subscribe now to get breaking news alerts in your email inbox
Get breaking news delivered to your inbox as it happens.
---