News > Spokane
The beauty of wet paint
Mon., March 27, 2006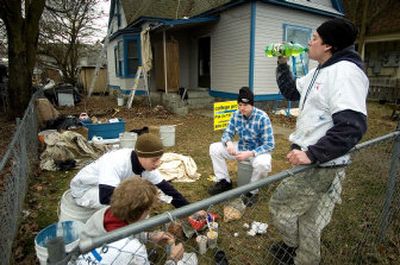 Who would paint a house on a damp March day in Spokane?
About 50 college students on spring break who are painting 10 West Central homes for free this month as training for starting their own businesses.
Though gray skies threatened at some points, the teams finished five houses on schedule last week and are scheduled to do five more this week.
"For March in Spokane, we'll take it," said Dave Rychley, vice president of the company that will sell franchises to the students, College Pro Painters. "Fifty degrees for the most part and sunny. … It's a tricky time of year."
Ken Jordan, for one, was glad for the timing. His home in the 2000 block of West Boone Avenue was covered with patches of peeling paint before crews showed up early last week.
"It's something I can't afford to do at this time, and it helps maintain the value of my property," said Jordan, 55, who struggles with arthritis and other health problems and whose wife is disabled.
The work benefits families with low incomes or disabilities who were identified by the Spokane Neighborhood Action Programs.
It provides training for the students, who will each start their own house-painting business.
"It's almost like a business internship," Rychley said.
Kelin Hehman, an 18-year-old from Seattle, is hoping to be running a business with $120,000 in annual revenues in about a year, while studying humanities and business at Seattle University.
Though the company won't discuss the potential profit involved, the vast majority of that revenue, like most businesses, will go toward employees, materials and other costs. Hehman doesn't need the money for tuition – he might get a car or his own place.
Nathan Werner is a 27-year-old former franchise owner at the University of Washington who now works as a project manager for the company. He said most of the students take to the painting pretty quickly.
"It's more how to run a small business that's complicated for them," he said.
Jordan bought his home about five years ago and has help from Spokane Neighborhood Action Programs with insulation and heating, as well. He lives on Social Security disability income. He used to do plumbing and electrical work but got hit with migraines a few years ago, and his health has suffered in other ways since. The house is roughly 100 years old, and he knows he's facing more expenses in the future.
"I figure within the next 10 years I'll have to put in a new sewer system," he said.
But the new coat of blue and gray was a good start, he said.
"I like it better," he said. "It makes the house stand out."
Local journalism is essential.
Give directly to The Spokesman-Review's Northwest Passages community forums series -- which helps to offset the costs of several reporter and editor positions at the newspaper -- by using the easy options below. Gifts processed in this system are not tax deductible, but are predominately used to help meet the local financial requirements needed to receive national matching-grant funds.
Subscribe now to get breaking news alerts in your email inbox
Get breaking news delivered to your inbox as it happens.
---