News > Spokane
Soon-to-be college graduates finish up last, wistful week
Sat., May 6, 2006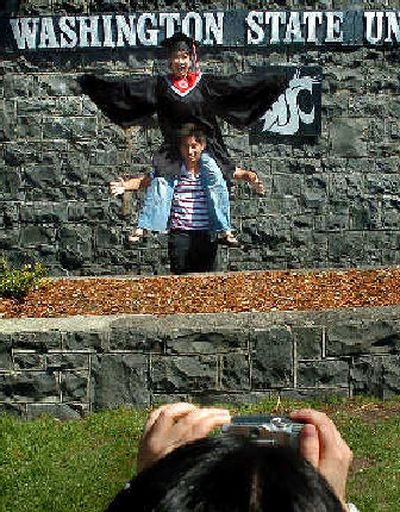 PULLMAN – The next wave of architects, teachers, engineers and grad students will cross the commencement stage here today, dressed identically in caps and gowns.
But in their last week of school, everyone in the Washington State University Class of 2006 took their own path.
For Thomas Duff Bangs, it was finishing his furniture design project for a bachelor's in architecture. For Sandy Fairbanks, it was returning a 2-foot stack of books to the library, having finished her final paper for an English degree.
For David Counts, it was trying to juggle an impending wedding and his search for a job after picking up his degrees in communications and psychology.
"It's kind of a torn-hearted feeling because I've loved being here, and a lot of my friends are here, and I've had a lot of fun here," Counts said this week as he worked at a textbook buyback table. "But I'm also looking forward to finding out what's next."
WSU's commencement exercises this week are kicking off the college graduation season in the Inland Northwest. WSU-Spokane ceremonies were Friday. Next weekend, graduates will walk at Gonzaga, Whitworth and the University of Idaho, with other commencements coming later.
WSU expects about 2,200 students to take part in today's ceremonies. This week, the Pullman campus was alive with evidence of the concluding school year. Graduates posed for photos and picked up parents at the airport. Students stayed up late cramming for finals, cleaned their apartments and dorm rooms, finalized party plans with families and friends – and spent plenty of time looking ahead.
Janell Partain, a 24-year-old from Toledo, Wash., was finishing her last days as the student manager of catering at the Compton Union Building.
"I've done a lot of packing," she said. "Lots of cleaning. My family's coming for graduation, so I'm trying to make my place look less like a bomb hit it."
Partain is taking a trip to Boston and then moving to San Jose, Calif., for a job with a hotel group. She's never been there – having interviewed for the job in San Francisco – and doesn't know anyone there.
"I'm kind of scared," she said. "I'm from Toledo, and Toledo's population is about 1,000, and I have no idea what it is in San Jose but it's a lot more than 1,000."
For other students, the prospect of a big, anonymous city is appealing. Fairbanks, who was hauling the huge pile of books back to the library Wednesday, said she wants to move to a city and get involved in acting, singing and dancing.
"I'm ready to go get on with my life," she said.
For many students, of course, getting a job is a big priority. Nicole McClary, a 22-year-old from Tri-Cities, is weighing her options. Her degree in social science, with emphasis on business and criminal justice, gives her some flexibility, as does her work in cosmetics at the campus bookstore. She said she's considering opportunities with Clinique or with Enterprise car rental. "It's really just exciting to get out there and start a career," she said.
For others, the next step is more education.
Martin Boston, one of nine outstanding graduates named by the university, plans to return to WSU and work on a master's in American studies, with the goal of becoming a college professor. As an undergrad, Boston ran track, wrote a column in the campus newspaper and organized student groups like Black Men Making A Difference. He said winning the outstanding graduate honor was particularly satisfying because he almost didn't get admitted into WSU at all.
Boston said the events surrounding graduation – including a ceremony Friday for African-American students and family – have prompted him to think about the way his life is changing.
"Now you're making decisions about what you're going to do and how you're going to contribute to the world," said Boston, who's from Hayward, Calif. "Because, literally, it's yours now."
Duff Bangs, a 24-year-old from East Wenatchee, is another outstanding graduate. He's also planning to return for further studies in architecture, with the eventual goal of becoming a licensed architect and working on housing for the poor.
During his time as an undergrad, he helped on a solar house project that students spent three years designing and building for a national competition. Everything in the house was run by solar power.
"I didn't even know what architecture entailed when I got into" the program, he said. "I didn't know how cool it would be."
Vernette Doty's pathway to the sheepskin was different from most. The 45-year-old Pullman woman returned to college to study sociology. Like Boston and Bangs, she's been named an outstanding graduate and is planning to continue with graduate studies. Unlike them, however, she's got a husband and two sons who are also in college – her husband's studying for a Ph.D. at WSU, and the boys are in college in California.
Last year, there were four Dotys in school somewhere in Pullman, she said.
"We referred to our house as the Doty dorm," she said.
Doty owned a gym in downtown Pullman that was hit hard by the opening of WSU's fancy new student rec center, and so she decided to return to college in 2003. This weekend, she's reversing the more typical pattern of events – instead of traveling to her kids' graduation, they're coming to hers.
"My boys are coming in from California," she said Thursday. "They're flying in tomorrow night. I can't wait."
Local journalism is essential.
Give directly to The Spokesman-Review's Northwest Passages community forums series -- which helps to offset the costs of several reporter and editor positions at the newspaper -- by using the easy options below. Gifts processed in this system are not tax deductible, but are predominately used to help meet the local financial requirements needed to receive national matching-grant funds.
Subscribe now to get breaking news alerts in your email inbox
Get breaking news delivered to your inbox as it happens.
---