Montana crew spruces up Q'emiln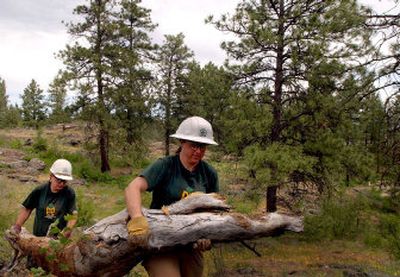 An easier path now leads to the tough climbing walls in Post Falls' Q'emiln Park.
For nine days, a crew of volunteers from the Montana Conservation Corps has been working deep inside the park to improve its trail network.
Much of the sweat from the six-person crew has been poured into a steep, craggy trail that leads to the base of climbing walls at the park. The walls have been discovered by the burgeoning climbing community in recent years and touted in national climbing publications, said Linden Lampman, Post Falls' city forester.
"It's kind of a double-edged sword: We're now inviting more people to come into the park because it's more accessible," Lampman said.
But the new trails will be safer and offer easier access to people of different physical abilities, Lampman said. Many nonclimbers also hike the area, which links to an old wagon trail that was once a major access route to the Spokane Valley.
There had been some earlier attempts at making the trail less treacherous, including using railroad ties and rebar, said Lampman. The latest work involves slabs of native stone.
"It's definitely a 98 percent improvement over what was there before," Lampman said.
The volunteers have also worked to realign trails and protect sensitive areas from trampling.
Hiring a crew to do such labor-intensive work would blow most budgets, but the Montana Conservation Corps volunteers ask only that their living expenses be covered. The city became aware of the nonprofit group through Avista Utilities, which owns the parkland and operates a hydroelectric dam on the nearby Spokane River. Montana Conservation Corps volunteers have previously worked on Avista's riverside recreation sites in Montana.
Addy Wygmans, Kalispell field coordinator for the Montana Conservation Corps, said the recent work in Post Falls is being used as a preseason training session for other trail crew leaders.
The rock work done in Q'emiln Park "is the bread and butter of the trail world," Wygmans said. Unlike brush-cutting or other trail maintenance work, building with rock is particularly satisfying, she said. "When you set a rock in the ground, you can look back and say, 'I put that in.' "
The Montana Conservation Corps spends summers doing community service and trail work across Montana, as well as inWyoming and Idaho. Young men and women work for the group in exchange for a small living stipend. At the end of the season, the workers receive roughly $2.70 for each hour of their work to pay for college expenses.
---