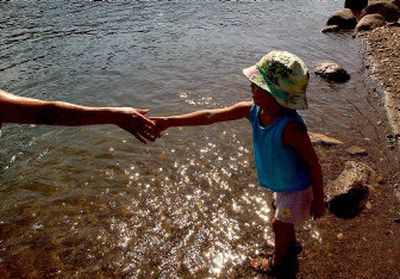 Strewn with towels and hopping with kids, the beach at Coeur d'Alene's City Park looked positively August on Wednesday afternoon.
But the clear water felt decidedly March.
"After three days of this, we thought the lake would be warm enough," said Debbie McKenzie, who brought her two children to the beach to escape the heat.
One boy was fully immersed, but most people, including McKenzie, went in no deeper than their ankles and were treated to the odd sensation of numb feet and sweat-drenched upper-bodies.
"You get used to it," McKenzie said. "I don't know if I'll be dunking my head in, though."
The fast-forwarding from cool spring to the dog days of summer was especially evident at Coeur d'Alene's water department, which has experienced a surge in use in recent days, said Terry Pickel, assistant water superintendent for the city. In the middle of winter, the city quenches its thirst by using only two of its nine well pumps. On Wednesday, seven pumps were sucking water from the aquifer.
"Normally we don't see the spike until the third week of July," Pickel said.
Despite the beach weather, there's not been a surge of students skipping school, said John Brumley, principal of Coeur d'Alene's Lake City High School.
"The water at the lake is still so cold, it's not really enjoyable to take that summer plunge," he said.
This is also the week of several statewide athletic tournaments. Many students are at those events, Brumley said. Missing school could jeopardize returning athletes' eligibility to compete next year.
Brumley also said the heat wave caught many off-guard. Forecasts originally called for temps in the 80s.
"The transition has been so quick I don't know if anybody's really adapted to it," he said. "It's almost uncomfortable to be out. You'd be a little more comfortable anyway in school in air conditioning."
Kids were finding creative ways to keep cool all over the region Wednesday.
Joey Clinton, a sixth-grader at Centennial Middle School in Spokane Valley, helped his classmates cope with record-breaking temperatures by spraying them with his "Cool Mist Blaster."
"It's really hard to study when it's so hot," said Joey.
It wasn't only hot outside but it was hotter than a Bunsen burner inside the school's science room where the temperature topped 90 degrees by early afternoon. The school doesn't have air conditioning.
"Students are in the June mode. They act like they're graduating tomorrow. I keep reminding them that they have a month to go," said science teacher Joe McCollum.
Centennial principal Pam Francis said they're trying to keep classrooms as cool as possible by turning off lights, closing blinds and using fans. They also encourage students to bring water bottles.
"It's actually even warmer in the fall, and for a longer period of time. Fifteen years ago I would have come to school in nylons," said Francis, dressed in a short sleeved blouse and Capri pants.
Almost all of the schools in the West Valley School District are without air conditioning, with the exception of Spokane Valley High School. When West Valley High School renovation is completed the school will have air conditioning.
Spokane Public Schools has 23 schools without air conditioning.The "rainbow" schools built in the 1980s are air conditioned, but several older schools such as Finch, Adams and Pratt aren't.
---