It's all downhill from here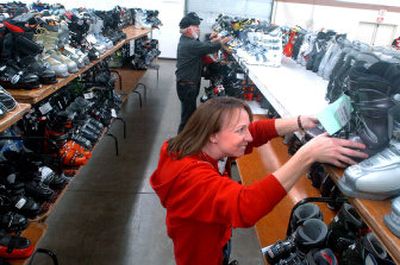 By sunrise today the line will likely have already formed. Some snow junkies searching for cheap gear show up in the dark of night just to get first crack at the hundreds of pairs of boots, skis, snowboards and clothing for sale at the annual Winter Swap held today at the Kootenai County Fairgrounds.
If you need equipment and the sun is shining, don't worry, said Denny Burt, a ski patrol member and business owner who helps organize the annual event.
"We've got lots of gear," he said Friday, as people were bringing in new and used equipment to sell at the swap.
The event runs from 9 a.m. to 3 p.m. today. Admission is $4. Children 12 and younger get in free with a paying adult.
Sixteen percent of all proceeds from the Winter Swap support the Silver Mountain and Lookout Pass volunteer ski patrols.
Although ski swaps once had a reputation as warrens of World War II-era wooden skis and crusty old boots, a lot has changed. Much of the gear is brand new but sold at steep discounts by retailers who buy bulk gear from manufacturers at the end of the season, Burt said.
On the swap racks it's not hard to find new, brand name ski jackets and pants for a combined $80. Complete ski packages for kids sell for about $150. There also are cross-country skis and snowshoes.
Although much of the gear is new, or at least relatively new, Burt's eye was caught by something unusual in the rack.
Amid the curvy, high-tech shaped skis was an old pair of straight skis, complete with clunky metal binding.
"Oh my! Look at those," Burt said, laughing.
Price: $5.
---