Bonner County hit hard by rains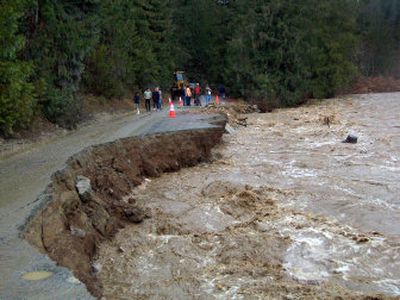 Dozens of homes and residents near Clark Fork, Idaho, were stranded after rain-swollen creeks washed out two roads Tuesday afternoon. The warm, wet weather dumped nearly a foot of rain in portions of the region.
County, state and railroad crews planned to work through the night to free a large debris jam that threatened to take out a major railroad bridge, said Barbara Babic, spokeswoman for the Idaho Transportation Department.
"We're hoping to dodge a bullet," Babic said Tuesday. "It's about 50 or 60 feet of debris. Trees are coming down. It's not just little twigs and whatnot."
Upper Pack River Road at Hellroaring Creek was closed because of flooding, according to Bonner County's road department. Spring Creek Road leading into Clark Fork also washed out near the confluence of Lightning and Spring creeks.
The Spring Creek Road washout stranded the occupants of 100 to 150 homes above the washout. A shelter was set up to assist stranded residents, but crews late Tuesday afternoon had not been able to help anyone upstream of the washouts.
"We're trying to get rock in there, but it keeps washing away," a Bonner County public works employee said. "The water is really coming down."
North Idaho, like much of the Northwest, has been pounded by warm rain in recent days, delivered by a "pineapple express" weather system, according to a spokesman with the National Weather Service office in Spokane.
About 9 inches of rain fell between Monday afternoon and Tuesday afternoon in the headwaters of Lightning Creek. On Tuesday afternoon alone, nearly 3 inches was recorded at Bear and Schweitzer mountains.
The heaviest rain appears to have passed, according Ron Miller, a weather service forecaster.
"We're expecting it to end overnight," he said. "Things should not get any worse than they already are."
People living near streams should watch for rapidly rising water, according to a statement by the agency Tuesday.
Compounding the trouble is sporadic phone outages around the region, including in much of Bonner County. Calls could not be placed to the administration number for the Sheriff's Department.
So far, state Highway 200 remains open. The bridge over Clark Fork River is safe, Babic said.
Railroad crews are using a crane to free a debris jam upstream from the Lightning Creek trestle, just west of Clark Fork.
The state is supplying a generator to provide enough light for crews.
About 25 students at Clark Fork Junior/Senior High School and Hope Elementary School were unable to take their usual school bus home Tuesday because of the Spring Creek Road washouts.
School officials called the parents of those students and told them they need to find another way to get their children home, said Dick Cvitanich, superintendent of the Lake Pend Oreille School District.
A shelter in Clark Fork has 50 beds, and the local senior center is providing meals, Cvitanich said.
A few students living past the first 6 1/2 miles of Upper Pack Road couldn't make it to school Tuesday morning because of the road conditions, Cvitanich said.
Rivers across the region are roaring with rainwater, according to measurements taken by remote monitoring stations run by the U.S. Geological Survey.
The north fork of the Coeur d'Alene River near Prichard, Idaho, is flowing at 2,310 cubic feet of water per second, or 10 times its normal flow for the day and twice as high as the previous high water mark for the date, set 50 years ago.
The river had not spilled over its bank as of Tuesday afternoon, said Joe Peak, owner of the Enaville Resort. Many hunters are in the surrounding national forest, and some have campers parked along the river.
"You could walk across the Little North Fork Friday," Peak said.
"You won't be doing that now."
---