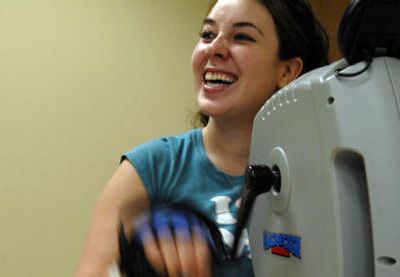 BONNERS FERRY, Idaho – A nursing home is no place for a 21-year-old woman to spend summer. But that's where Jamie Babin was.
In bed. Lying flat on her stomach. Dreaming of the day when the pressure sores would finally heal and she could get back to the business of walking.
She kept the door to her room closed so she could try to forget about being stuck in a nursing home, surrounded by all the white-haired residents who seemed to be at the end of their days.
The deep sores wouldn't heal, but Jamie clung to her dreams of regaining her independence, of going off to college and ultimately recovering the life that a freak plane crash nearly stole.
A couple days ago she took a big step toward that goal – much to her family's surprise.
Late Wednesday night, Jamie returned to her family's home in Bonners Ferry. Jamie's older sister, Miki, drove her there and helped sneak her into her old bedroom. Thanksgiving morning revealed the big surprise to Jamie's mother, Janette, and 10-year-old sister, Acadia.
"Surprise is not the word. She pretty much shocked us," Janette Babin said.
Jamie's family had hoped she would be home by early December, but they never expected her by Thanksgiving. The early homecoming was brought on because Medicaid would no longer cover her hospital care and her wounds had made enough progress that she wasn't in serious danger of another infection.
It could be weeks or months before the wounds are healed enough for Jamie to give leg braces another try. But after spending the last seven months in bed – in addition to the two years she had already logged in hospitals – Jamie is a patient patient.
She was injured in the summer of 2001, just two weeks after turning 16. At the time, her family ran a small airport in Invermere, B.C. A family friend had offered to give her a ride in his stunt plane. A thousand feet above the ground, the engine quit – there had been water in the fuel.
Jamie's last memory of the incident was the pilot cussing and the propeller slowing to a stop. Then, she went black. The pilot died on impact. Jamie was knocked unconscious and wasn't expected to survive.
All four of her limbs had been broken. Her liver was lacerated and her heart bruised. She suffered serious trauma to her head. Her spine was barely intact. "I believe the word they used was 'shredded,' " she said.
Jamie came out of a coma after 10 days. Four months after the crash, she returned to her family's home in British Columbia, which had been outfitted with an elevator and wheelchair-friendly wood floors. A divorce eventually forced Jamie's mother to move with her daughters to her parents' home in Bonners Ferry.
There, Jamie enrolled in high school. Eventually, she was outfitted with a set of leg braces.
"You can't give me a pair of legs and tell me not to use them," she said.
Jamie's spine had been severely damaged, but she still had some sensation in her legs. She compares it to the feeling most people have when their feet fall asleep. Eventually, Jamie took a step, then another. Before long, she was able to walk 100 steps.
But all this effort came back to haunt her. Jamie's nerves don't work well enough for her to feel the pressure from the braces. The pressure was intense enough in several points that her muscles became starved of blood. Jamie had no idea that deep below the skin of her legs, her flesh was essentially dying. She learned of the trouble the day one of these infected wounds broke open. It was only the size of a dime, but it went nearly to the bone.
"I was so scared I hid it from my mom. I tried to fix it myself," Jamie said.
But the wounds were too deep and too infected. Jamie's immune system wasn't strong enough. Eventually, her body began shutting down. She began to hallucinate. On April 15, Jamie was rushed to her surgeon in Coeur d'Alene, who decided to operate immediately.
After surgery, Jamie was placed in a nursing home in Sandpoint. The staff was caring, but Jamie said she did not receive the specialized help she needed to recover, including physical therapy, which can help restore blood flow to weakened muscles.
"I didn't get out of bed for six months," Jamie said. "I don't even feel like summer happened."
In early October, Jamie was transferred to the Northern Idaho Advanced Care Hospital in Post Falls. The newly opened, 40-bed hospital was designed to help people like Jamie – those stable enough to not require a stay in a traditional hospital, but in need of specialized care not offered by most nursing homes or rehabilitation centers. On staff at the Post Falls facility were two of the region's top experts in caring for pressure wounds and meeting the rehabilitation needs of people with spine or brain injuries.
Pressure sores are serious problems for people with nerve damage, said Sharon Hall, a neurologic certified specialist who works at the hospital. Hall previously worked at hospitals in Spokane. She continues to share her skills by teaching physical therapy students.
Preventing pressure sores takes a comprehensive approach to healing, Hall said. Specialized air cushions are needed, as are proper nutrition and circulation-restoring physical therapy. All it takes is 20 minutes of direct pressure for the sores to start, Hall said.
"A sore happens before they realize it's there," she said, speaking Wednesday from the large, airy physical therapy room at the Northern Idaho Advanced Care Hospital.
Jamie's sores had not healed during her long stay in bed at the nursing home. At the Post Falls hospital, she expected to continue lying in bed. Her first morning, a staff member came into her room and ordered her out of bed and into her wheelchair.
"So, I got up," Jamie said. "Boy, did that feel good."
Jamie spent a good portion of that first day wheeling around outside in the sun. "I can't even tell you how happy I was," she said. "I don't get depressed. I'm not like that. But it got hard at the nursing home. It was hard."
The changes have helped the wounds to heal. She still has one sore, but it's nearly closed, she said. When the sore is fully healed, Jamie hopes to get fitted with a better set of braces so she can return to her quest of walking. With any luck, she'll start college in spring.
For now, though, she's just happy to be back home. Wednesday night offered her a pleasure she'd been dreaming of for months: sleeping in her own bed.
"Oh my gosh, I slept so good," she said Thursday, shortly before turkey and stuffing were served.
When dinner was ready, an aunt offered a brief, homespun version of grace: "Thanks for family and food and that Jamie is home."
Janette Babin hugged her daughter close. "We're very, very grateful," she said. "Very grateful."
---