Sports
John Blanchette: Whits proved that they belong
Sun., Nov. 26, 2006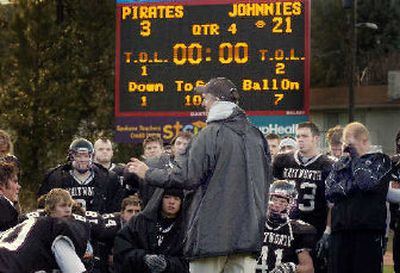 Another big game at the Pine Bowl. This late in November, how could it not be?
But Whitworth College athletic director Scott McQuilkin didn't realize how big until he happened to see famed pianist/infotainer John Tesh behind the bleachers – and then saw his actress wife, Connie Sellecca, emerge from one of the Honey Bucket porta-potties nearby.
It ain't the red carpet on "Entertainment Tonight," but so what?
Just how did the beautiful people happen to be at Saturday's Whitworth- Saint John's NCAA Division III football playoff game? McQuilkin was apparently too star-struck to ask, but perhaps they were just in the mood for surprises, and at the Pine Bowl, they never run out.
Take the weather. Before they'd played a half, the Pirates and Johnnies had endured snow, brilliant sunshine and popcorn hail.
"You get everything when you come here," marveled the Johnnies' 80-year-old icon, coach John Gagliardi, who last brought his team from Collegeville, Minn., here in 1975 – to play in a wind-and-rain storm.
Then there was the streaker who bolted naked down the Pine Bowl track, through the trees south of the field and into a waiting getaway car on Hawthorne just before kickoff. Oddly, the A.D. was not concerned about the breakdown in security that allowed his entrance and escape.
"I was just glad he made the fence," McQuilkin said, wincing at the image of chain link meeting, well, you know.
Oh, and one more surprise: no miracle finish.
The Pirates always seem to have one in them. They pulled it off to get into overtime and beat Wisconsin-Stout, to down Azusa Pacific a week later, even a defensive stop to salvage the rare win over Linfield. Just last week, a touchdown pass by Joel Clark with 24 seconds left gave Whitworth its first postseason football victory in history, over Occidental.
But not Saturday.
This time, the Pirates had to rue the half-dozen or so plays that went haywire or just missed, plays in the gut of the game that made a comeback out of the question against a team as steady as Saint John's – a 21-3 winner on this afternoon and the survivor headed to the D-III quarterfinals next week.
A couple of passes blown up, a couple more dropped. A fumble. A costly delay of game penalty. A shotgun snap that never got from here to there.
That may have been all that kept the Pirates from being victors instead of victims, though the Johnnies themselves threw a couple of interceptions in the red zone to make things more interesting than they might have been.
"They're a quality team," said Jay Tully, the two-way safety/slotback. "We're a quality team, too, but we didn't play our best today. We moved the ball well but didn't put it in the end zone, and the defense could have come up with a few more stops. We play them another time, we've got a good shot."
But there are no second chances in the merciless playoffs. While Tully felt the sting, his father John, who has resurrected the Whitworth program over the course of his 12 years at the school, quite properly looked at the bigger picture – the 10-0 regular season, the first-ever playoff win, the unprecedented success to celebrate the school's 100th year of football.
"It's a special group that did special things," said the coach. "When these guys first came in as freshmen, they came in with high expectations – and that's what we want when we go out recruiting. And what they accomplished was unbelievable. I doubt there were five people on the West Coast who 16 weeks ago thought Whitworth would go undefeated and win a national playoff game."
The obvious question is whether this is a culmination or a handhold on some higher climb – and there are 16 starters back, though not quarterback Joel Clark or tight end Michael Allan, maybe the two best players in school history.
The not-so-obvious question is whether the obvious one is all that relevant. The Pirates will go wherever Tully and the players take them.
There are strata even within the non-scholarship lodge of Division III, and while there may not have been all that much separating the Johnnies and Pirates on the field Saturday, there is more to the equation. There is tradition – SJU is a perennial, with 38 playoff wins in its history. And there are resources. The Johnnies play before nearly 8,500 fans every home game, and the facilities – including a fieldhouse to practice in – couldn't be nicer. And all of it was honorably earned.
And Whitworth? Well, the Pirates are playing ball.
"Five years ago, we hadn't beaten Pacific Lutheran in so long," McQuilkin pointed out. "Now it's four of the last six regular-season games. This year we exorcised the demon of Linfield, and won a playoff game. I don't think our students go into any game awed or intimidated."
Noted the elder Tully, "We're a national-caliber team, a top 10 team. And we have to be one of the funnest teams to watch anywhere."
Throw in the celebs and the streaker, and it's not even a contest.
Local journalism is essential.
Give directly to The Spokesman-Review's Northwest Passages community forums series -- which helps to offset the costs of several reporter and editor positions at the newspaper -- by using the easy options below. Gifts processed in this system are not tax deductible, but are predominately used to help meet the local financial requirements needed to receive national matching-grant funds.
Subscribe to the sports newsletter
Get the day's top sports headlines and breaking news delivered to your inbox by subscribing here.
---