News > Spokane
Fort Lewis soldier will face trial
Thu., Oct. 5, 2006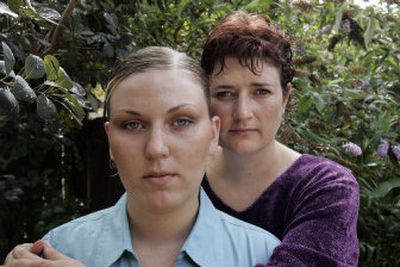 SEATTLE – A military police soldier who said she refused to return to Iraq because she was sexually harassed by noncommissioned officers will face a military trial.
Lt. Gen. James Dubik, commander of Fort Lewis near Tacoma, referred Army Spc. Suzanne Swift's case to a special court-martial, Army officials said Wednesday.
A special court-martial means that an Article 32 hearing, the military's form of a grand jury, is not required and the maximum punishment is 12 months confinement.
Swift, 22, of Eugene, Ore., was charged Sept. 27 with missing movement and being absent without leave after she refused to return to Iraq and alleged her supervisor there coerced her into a sexual relationship.
Swift, a member of the 54th Military Police Company of the 42nd Military Police Brigade at Fort Lewis, served in Iraq from February 2004 to February 2005.
Her unit was sent back in January 2006, but she refused to go and stayed away for roughly five months.
Swift was arrested at her mother's home in Eugene in June. She claimed she had been harassed or abused by three noncommissioned officers – two in Iraq and one at Fort Lewis in May 2005.
On the advice of her lawyer, Swift did not provide a sworn statement to investigators, the Army said.
Before taking disciplinary action against Swift, the Army investigated her allegations. "The command substantiated one allegation she made against a soldier at Fort Lewis and did not substantiate two allegations she made against soldiers in Iraq," Army officials said in a news release Wednesday.
In the May 2005 case, the soldier received a written reprimand from his battalion commander and was reassigned to another unit.
"That soldier has since left the Army," said J.C. Mathews, a civilian spokesman at Fort Lewis.
It's not surprising that Swift was recommended for a special court-martial, which are common in cases where a soldier is absent without leave for a lengthy period of time, said Kathleen Duignan, executive director of the National Institute of Military Justice. The nonprofit agency in Washington, D.C., works to improve public understanding of the military justice system.
"In the military, people consider this to be more of a misdemeanor court because of the limitation on punishment. It's still obviously a serious judicial forum," Duignan said, adding that an aggravating factor in the case is the fact that Swift had to be arrested rather than turning herself in.
Duignan noted that the length of time the Army took to investigate Swift's case was longer than usual, likely because of her harassment claims.
"In her case, she's almost alleging some type of duress," Duignan said. "It seems they treated her like anybody else suffering from post-traumatic stress disorder."
No date had yet been set for the court-martial, Fort Lewis spokesman Joe Hitt said.
Swift's mother, Sara Rich, told the Associated Press she was not commenting on the case on the advice of her daughter's attorney, Keith Scherer in Chicago.
Scherer did not immediately return a message Wednesday.
Local journalism is essential.
Give directly to The Spokesman-Review's Northwest Passages community forums series -- which helps to offset the costs of several reporter and editor positions at the newspaper -- by using the easy options below. Gifts processed in this system are not tax deductible, but are predominately used to help meet the local financial requirements needed to receive national matching-grant funds.
Subscribe now to get breaking news alerts in your email inbox
Get breaking news delivered to your inbox as it happens.
---