News > Spokane
Sheriff promises review
Thu., Oct. 5, 2006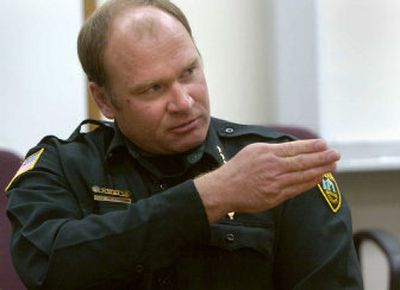 Sheriff Ozzie Knezovich promised Wednesday to review the conduct of deputies who searched an innocent Spokane couple's home because of a detective's error and announced changes to prevent similar mistakes in the future.
"This is very serious," he said in a midafternoon press conference. "People can get hurt if this happens."
Several hours later, sheriff's officials announced the arrest of the real suspect in a rash of obscene calls to Whitworth College students: 42-year-old Robert M. Sherman of 1408 E. Mallon Ave.
Sherman, who was booked on telephone harassment charges, was suspected of making some 30 obscene calls to 21 female Whitworth students. Most of the calls were voicemail messages.
Veteran Detective Tim Hines traced four of the calls to Sherman's telephone number, but got one digit wrong when he searched for the address associated with the phone number.
As a result, Hines and other officers wrongly accused a 67-year-old Spokane man and searched his home on West Point Road on Sept. 27. They seized computers, CDs, floppy disks, VHS tapes and other items that they had to return Monday when more obscene calls were received, and Hines discovered his mistake.
Knezovich said supervisors already review search warrant applications, but now they will be required to compare them with supporting documents. And those supporting documents now must be attached to the applications.
The typographical error that led to last week's wrongful search might have been avoided if telephone company records with the correct information had been given to the judge who issued the search warrant, Knezovich said.
On Wednesday, Knezovich said that he accepts responsibility for procedural problems that may have led to the mistake. But he won't tolerate the kind of rude behavior the wrongly accused man said officers directed toward him and his wife.
The sheriff said he will talk to the couple and review reports from all the officers involved. If he finds any officers acted unprofessionally, the penalty could range from a verbal warning to a written reprimand.
Knezovich said his policy is simple: "Treat everyone with respect until they give you a reason not to."
The wrongly accused homeowner said that Hines humiliated him in front of neighbors by directing officers to take photos outside his home and then "go inside and find some porn."
Inside the house, the homeowner said, a female officer "giggled" about remarks at his expense.
"If that happened, I will deal with that," Knezovich said. "That's not professional, and I will deal with that aspect."
Among other complaints, the West Point Road resident said Hines played a recording of some of the obscene messages and argued when the man's wife of 37 years said the voice on the recording wasn't her husband's.
The man said Hines also told him he could prevent news coverage if the man would confess.
Knezovich said he would look into that, too.
"You don't make a statement that you can't back up because, if you do, you lose your credibility," Knezovich said.
However, he said the kind of error that led Hines to the wrong home is "a very rare occurrence," and Hines is "very diligent in his work."
As for the wrongly accused man's complaint that officers upended drawers and left a mess the deputies said they weren't obliged to clean up, Knezovich said officers don't put unseized materials away because items might be misplaced.
Also, he said, "We generally don't put things back so the people in the house will know where we've been."
In a press release announcing Sherman's arrest, sheriff's spokesman Sgt. Dave Reagan quoted Hines as saying Sherman was "very cooperative, very embarrassed and very contrite."
Reagan said the investigation "revealed that Sherman began calling Whitworth students after calling phone sex lines became prohibitively expensive."
According to Reagan, Hines said Sherman "thought he'd hit the mother lode."
Whitworth College spokesman Greg Orwig said the Whitworth students who received the obscene calls were "upset and disgusted."
"To my knowledge," Orwig said, "no student responded in any way to the caller other than to hang up in the very few cases where he reached a live person rather than just leaving a voicemail."
Orwig said campus officials discovered the caller was able to identify female students by dialing a general number and using an automated directory to transfer to students' extensions. He apparently left messages only if a female voice answered when he chose last names at random.
That feature of the college telephone system was disabled, starting with listings for female students, Orwig said.
Local journalism is essential.
Give directly to The Spokesman-Review's Northwest Passages community forums series -- which helps to offset the costs of several reporter and editor positions at the newspaper -- by using the easy options below. Gifts processed in this system are not tax deductible, but are predominately used to help meet the local financial requirements needed to receive national matching-grant funds.
Subscribe now to get breaking news alerts in your email inbox
Get breaking news delivered to your inbox as it happens.
---