Sports
Story about biggest bull elk turns out to be big bull
Thu., Oct. 5, 2006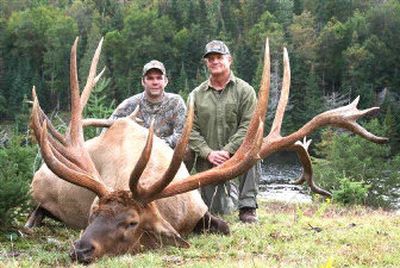 News travels fast by the Internet and e-mail. So do rumors and lies.
The latest hunting-related fib to come across my computer screen is a photo of two hunters with a monster elk accompanied by this message:
"This Elk was killed with a bow in the Selway-Bitterroot Wilderness. He green scored 575. … He has an unbelievable outside spread of 79 inches. This is the biggest bull ever taken with any weapon."
The reference to the Selway is the first clue that at least some of the information is bogus.
"That was a big red flag to us," said Brad Compton, Idaho Fish and Game Department big-game manager who also had received the digital image. "That would be 150 points bigger than any bull that's ever come out of the Selway. It's too farfetched."
"Anybody who knows anything about Selway elk could take one look at that bull and know that information is wrong," said Ryan Hatfield, who works with the Boone and Crockett Club in Missoula. Hatfield, who just finished researching and publishing the book, "Idaho's Greatest Elk," said he'd received at least 150 e-mails regarding the so-called Selway elk in the past few days.
After some sleuthing on Tuesday and a tip from a game rancher in Riggins, I found the source of the photo and the bull: Laurentian Wildlife Estate, which has operated as a shooter-bull ranch for six years near Mont Tremblant, Quebec, Canada.
In a telephone interview, Laurentian manager Tony Barber (at left in the photo) said his California client killed the bull earlier this year inside the 1,000-acre estate, which is enclosed by a game-proof fence to hold the domestically produced elk and red deer.
The elk is a Manitoba strain, not the Rocky Mountain subspecies native to Idaho, Barber said while offering the following details.
The bull was 10 years old and weighed 595 pounds. Its non-typical antlers had 12 points on one side, nine on the other with an outside spread of 79 inches.
The bull has been monitored closely as it matured. "We picked up its shed antlers last year and they measured 516 (Boone and Crockett points)," Barber said.
Here are other numbers to ponder:
Barber said the bull's score, using Boone and Crockett measuring criteria, is at least 560 green, that is, before the drying and shrinkage required for official scoring. (Two unofficial measurers scored it 566 and 561 green, he said.)
For comparison, the official Boone and Crockett world record bull, found floating dead in Upper Arrow Lake, British Columbia, scored 465 2/8.
The biggest fair-chase bull to be taken by a hunter came from Arizona. It scored 450 6/8.
Cost to hunt elk on the Quebec shooter-bull operation starts at $4,900, but prices for trophy bulls are negotiated, as Barber put it, "into the high five digits."
If the unofficial measurements hold up, the bull's dry-score antlers "would be the biggest ever taken by a hunter," Barber said.
Most sportsmen, however, take exception to his reference to "hunter."
Indeed, sportsmen who hunt the old-fashioned way for elk that run wild and free won't have to compete in the Boone and Crockett club's official North American record books against this farm-raised specimen.
Jack Reneau, Boone and Crockett big-game records director, said the club, founded by Teddy Roosevelt, does not recognize or score animals that were not taken under the club's rules of fair chase.
Shooting big-game animals inside an escape-proof enclosure is not considered fair chase, and therefore not endorsed or accepted by Boone and Crockett, he said.
Hold the reports: Washington hunters who have bagged big game or turkeys in fall seasons haven't been able to comply with the 10-day mandatory reporting requirement because the new online system to handle the reports is not working.
This is just another in months of computer software glitches that have plagued the Department of Fish and Wildlife since last winter, when hunters were having trouble getting licenses online and some hunter applications for special hunting permits were not entered into the drawings.
Department officials hope to have the system running again around Oct. 13. The 10-day grace period would begin on the day reports can be accepted.
Rock 'n' roll hunter: A sportsman's heart may have poured out for at least one of the 46 classified ads in the Missoulian last week stuck trying to sell tickets for last night's Strolling Bones, er, Rolling Stone concert. The seller made a poignant Montana appeal: "Need money for hunting rifle."
Local journalism is essential.
Give directly to The Spokesman-Review's Northwest Passages community forums series -- which helps to offset the costs of several reporter and editor positions at the newspaper -- by using the easy options below. Gifts processed in this system are not tax deductible, but are predominately used to help meet the local financial requirements needed to receive national matching-grant funds.
Subscribe to the sports newsletter
Get the day's top sports headlines and breaking news delivered to your inbox by subscribing here.
---