News > Nation/World
Michael J. Fox ads pitch Democrats, stem cell work
Wed., Oct. 25, 2006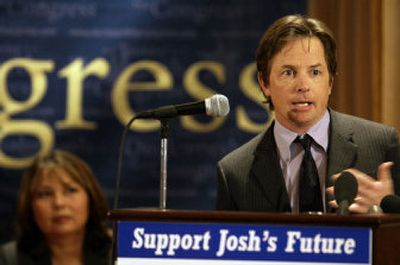 NEW YORK – The symptoms of Parkinson's disease that all but ended Michael J. Fox's acting career are making him a powerfully vulnerable campaign pitchman for five Democrats who support stem cell research.
In 30-second TV ads for Rep. Benjamin L. Cardin, who is running for the Senate in Maryland, Senate candidate Claire McCaskill in Missouri and Wisconsin Gov. Jim Doyle, Fox shakes and rocks as he directly addresses the camera, the effects of his disease clearly evident.
In the McCaskill ad, which has been viewed by more than 1 million people on YouTube.com, Fox tells voters, "What you do in Missouri matters to millions of Americans. Americans like me."
Celebrities have a long history of supporting political candidates. But there's no question that Fox, who campaigned for John Kerry in the 2004 presidential race, is uniquely suited as a spokesman for embryonic stem cell research, which some scientists believe could aid in discovering treatments or cures to Parkinson's and other diseases.
"The reason that he's powerful is that he's comparatively young," says Kathleen Hall Jamieson, director for the University of Pennsylvania's Annenberg Public Policy Center. "As a result, a lot of people in that age range can look at him and say, 'If that can happen to him, it can happen to me.' "
Jamieson notes that the issue of stem cell research has the potential to be an advantage to Democrats in the upcoming midterm elections since polls have shown the majority of Americans favor some form of stem cell research. The risk, she adds, is that the ads could appear as using Fox's hopes for a cure for political gain, as some claimed was the case when the paralyzed actor Christopher Reeve lobbied for stem cell research before his death in 2004.
Parkinson's disease is a chronic, progressive disorder of the central nervous system that leaves patients increasingly unable to control their movements.
Fox was diagnosed with Parkinson's in 1991 and revealed his condition publicly in 1998. In 2000, the "Spin City" and "Back to the Future" star quit full-time acting because of his symptoms and founded the Michael J. Fox Foundation for Parkinson's Research, which has raised millions of dollars.
Some have criticized Fox's ads as exploitive. Conservative radio commentator Rush Limbaugh claimed Fox was "either off his medication or acting" during the ad.
Others defend Fox's aggressive campaigning for a Parkinson's cure.
Dr. John Boockvar, a neurosurgeon and assistant professor at Weill Cornell Medical Center at New York's Presbyterian Hospital, called Limbaugh's claim that Fox was acting "ludicrous." Boockvar said those with Parkinson's have "on" and "off" spells.
Local journalism is essential.
Give directly to The Spokesman-Review's Northwest Passages community forums series -- which helps to offset the costs of several reporter and editor positions at the newspaper -- by using the easy options below. Gifts processed in this system are not tax deductible, but are predominately used to help meet the local financial requirements needed to receive national matching-grant funds.
Subscribe to the Coronavirus newsletter
Get the day's latest Coronavirus news delivered to your inbox by subscribing to our newsletter.
---