News > Nation/World
Chavez greeted warmly during visit to Harlem
Fri., Sept. 22, 2006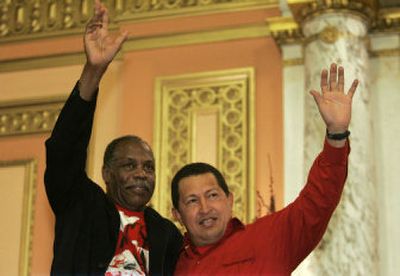 NEW YORK – Venezuelan President Hugo Chavez met with Harlem's underprivileged on Thursday to tout a discounted heating oil program, a day after he triggered an uproar with his speech at the United Nations attacking President Bush.
It was Chavez's second trip to New York. But while his visit to the Bronx last year passed largely unnoticed, Harlem was teeming with U.S. media on Thursday in the wake of Chavez's now-infamous United Nations reference to Bush as "the devil."
Chavez didn't moderate his tone on Thursday, saying of Bush, "He's an alcoholic and a sick man."
Bush has acknowledged that he had a drinking problem when he was young. He said he stopped drinking in 1986.
Chavez had few allies after his U.N. speech. House Democratic leader Nancy Pelosi, one of Bush's sharpest critics, called the Venezuelan leader "an everyday thug."
Rep. Charles Rangel, D-N.Y., who represents Harlem, said in videotaped comments: "We resent the fact that he would come to the United States and criticize President Bush. … You don't come into my country, you don't come into my congressional district, and you don't condemn my president."
In the ornate Mount Olivet Baptist Church in Harlem, a large screen flashed the logo of the Citgo Petroleum Corp., the U.S.-based refining arm of Venezuela's state-run oil company. Activists in red T-shirts with the words "Democracy in Revolution" emblazoned on front handed out Venezuelan flags and Chavez presidential campaign posters promising "Seven more years, for now." Chavez is facing a unified opposition in Venezuela's December presidential election, but polls show him well ahead.
Outside, a small group of protesters denounced Chavez as the "new pet" of Cuban leader Fidel Castro.
Chavez said Thursday that he's received death threats but that his destiny was "in God's hands."
"Some say I am a tyrant," he said, "but what we are doing in Venezuela is transferring power to the people."
The first hour of his 90-minute address meandered from praise for genetically modified Argentine cows to the "genocide" wrought by European descendents on indigenous groups to the contributions of Cuban doctors to Venezuela's health system.
Then he lashed out at Bush again, calling him an alcoholic.
"It pains me to say it," he said, "but it is the truth."
The leftist leader visited Harlem to announce an expansion of his discounted heating oil program for poor and elderly Americans. More than 450,000 households will be offered 100 million gallons of heating oil at a 40 percent discount, Chavez told a cheering crowd. Last year, 40 million gallons were offered to states mostly in the Northeast.
Chavez said the program would benefit residents in 17 states, including Massachusetts, New York, Virginia and Indiana. Native Americans throughout the country will also benefit, Chavez said.
There was plenty of praise for Chavez at the Harlem event. Actor Danny Glover introduced Chavez as "a very visionary man."
Local journalism is essential.
Give directly to The Spokesman-Review's Northwest Passages community forums series -- which helps to offset the costs of several reporter and editor positions at the newspaper -- by using the easy options below. Gifts processed in this system are not tax deductible, but are predominately used to help meet the local financial requirements needed to receive national matching-grant funds.
Subscribe to the Coronavirus newsletter
Get the day's latest Coronavirus news delivered to your inbox by subscribing to our newsletter.
---
Subscribe and log in to the Spokesman-Review to read and comment on this story