Sports
Erickson, UI corralled in Corvallis
Sun., Sept. 24, 2006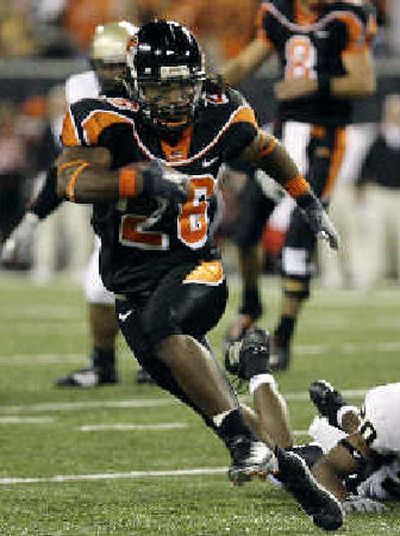 CORVALLIS, Ore. – University of Idaho football coach Dennis Erickson returned to Corvallis on Saturday, but his team apparently forgot to pack its offense for the trip.
The Vandals couldn't run. They couldn't pass. They had trouble hanging on to the ball. They threw it to Oregon State four times. And there was nowhere to hide as Idaho stumbled to a 38-0 loss in front of 40,317 at Reser Stadium and a regional cable television audience.
It was a humbling night for the Vandals and Erickson, who went 21-3 at Reser as the Beavers head coach from 1999-2002. Known for his innovative offensive schemes, Erickson watched Idaho sputter from the start.
"I don't know where exactly the trouble is, but we're going to have to look at it and evaluate it," Erickson said. "We can't perform like that. We're not going to beat anybody."
Oregon State (2-1) hadn't posted a shutout since a scoreless tie with Oregon in the 1983 Civil War. Idaho (1-3) was blanked 24-0 by Hawaii last season. Erickson's last shutout as a collegiate coach came in his final season at Oregon State when the Beavers fell 22-0 to USC.
Idaho was saddled with poor field position throughout the first half and couldn't move the ball effectively enough to change it.
The Vandals had nine first-half possessions. The first five ended with T.J. Conley punting. Quarterback Steve Wichman tossed interceptions on the next three and the clock expired after Idaho ran one play on its last series of the first half.
Wichman's dismal performance might have opened the door for a quarterback competition this week.
"I don't know. I guess maybe," Wichman said. "They're going to look at the film and see what's going on. I'd do the same thing."
Idaho didn't make a first down until its third series and it needed an OSU offside penalty to help pick that up. By then, the Vandals trailed 14-0. Idaho had only two plays gain more than 5 yards in the first half.
That Oregon State led just 17-0 at intermission was a credit to Idaho's defense, which stiffened after allowing two lightning-quick touchdown drives at the outset.
The Beavers passed on their first six plays before finally handing it off to talented running back Yvenson Bernard. He picked up 7 yards on third-and-6, then went 19 yards untouched to give Oregon State a 7-0 lead.
Oregon State went on top 14-0 less than 7 minutes into the first quarter on Matt Moore's 10-yard TD pass to Anthony Wheat-Brown.
A flood of turnovers followed. Wichman was intercepted on three straight possessions, giving the Beavers the ball at the Idaho 29, 49 and OSU's 28.
"We have to (open up jobs to competition)," said Erickson, not specifically addressing the quarterback position. "That's pathetic. I've never been around something like that in my life."
The Beavers could only convert the three interceptions into three points. With Oregon State at Idaho's 5, middle linebacker Jo Artis Ratti sacked Moore, forcing a fumble that was recovered by safety Chris Smith.
"At times I thought we played well (on defense)," UI linebacker David Vobora said. "The effort was there, no matter what the scoreboard said."
Idaho gained additional momentum when Wichman hit Eddie Williams for 33 yards on the ensuing play. The Vandals were at OSU's 48, but the threat ended quickly when Wichman threw into a crowd and was intercepted by Eric Moala Liava'a late in the second quarter.
Wichman was pulled after one ineffective series in the third quarter. He finished 4 of 17 for 40 yards. Brian Nooy fired completions of 20 and 13 yards on his first two plays, but then fumbled as he scrambled out of the pocket and Oregon State recovered.
On Idaho's next series, Nooy threw an interception that deflected off an OSU defender into the arms of linebacker Derrick Doggett, who returned the ball 12 yards for a touchdown late in the third quarter.
The Beavers led 31-0 and the only remaining question was whether Idaho could avoid being shutout.
The Vandals' best chance to score came early in the fourth quarter when Nooy beat a blitz with a quick pass to Williams, who was stripped of the ball after a 46-yard gain and OSU's Coye Francies recovered.
Idaho opens WAC play Saturday against Utah State in Logan.
Oregon St. 38, Idaho 0
| | | | | | | |
| --- | --- | --- | --- | --- | --- | --- |
| Idaho | 0 | 0 | 0 | 0 | — | 0 |
| Oregon State | 14 | 3 | 14 | 7 | — | 38 |
OSU—Bernard 19 run (Serna kick)
OSU—Wheat-Brown 10 pass from Moore (Serna kick)
OSU—FG Serna 34
OSU—Bernard 7 run (Serna kick)
OSU—Doggett 12 interception return (Serna kick)
OSU—Canfield 1 run (Serna kick)
A—40,317.
| | | |
| --- | --- | --- |
| | UI | OSU |
| First downs | 7 | 23 |
| Rushes-yards | 24-57 | 38-174 |
| Passing | 128 | 206 |
| Comp-Att-Int | 8-23-4 | 20-35-1 |
| Return Yards | 19 | 48 |
| Punts-Avg. | 8-39.0 | 7-37.0 |
| Fumbles-Lost | 2-2 | 2-1 |
| Penalties-Yards | 8-87 | 6-69 |
| Time of Possession | 25:34 | 34:26 |
INDIVIDUAL STATISTICS
RUSHING—Idaho, Flowers 7-37, Ford 6-28, W.Williams 1-13, Bird 5-1, Nooy 1-1, Fry 1-0, Wichman 3-(minus 23). Oregon State, Bernard 23-117, Polk 10-49, Jackson 1-4, Moore 3-3, Canfield 1-1.
PASSING—Idaho, Wichman 4-17-3-40, Nooy 4-6-1-88. Oregon State, Moore 16-31-1-169, Canfield 4-4-0-37.
RECEIVING—Idaho, E.Williams 2-79, Komar 2-10, Greer 1-20, Octave 1-13, Fry 1-9, Flowers 1-(minus 3). Oregon State, Stroughter 5-68, Wheat-Brown 3-50, Strickland 3-36, Powers 2-35, Newton 2-10, Bernard 2-(minus 1), Vandiver 1-4, Polk 1-3, Morales 1-1.
Local journalism is essential.
Give directly to The Spokesman-Review's Northwest Passages community forums series -- which helps to offset the costs of several reporter and editor positions at the newspaper -- by using the easy options below. Gifts processed in this system are not tax deductible, but are predominately used to help meet the local financial requirements needed to receive national matching-grant funds.
Subscribe to the sports newsletter
Get the day's top sports headlines and breaking news delivered to your inbox by subscribing here.
---