News > Features
Opera Plus goes back to Figaro
Thu., Sept. 28, 2006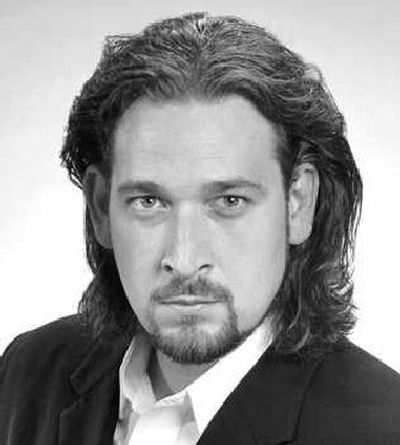 Operas don't often come in sequels (or prequels) unless the composer happens to be Richard Wagner. The exceptions are his operas about Figaro.
The Figaro operas are based on plays by Pierre Antoine de Beaumarchais. The first is about Figaro as a Mr. Fix-It in "The Barber of Seville." The second has the hero as a soon-to-be-married valet in "The Marriage of Figaro."
(There is a third play, intriguingly named "The Guilty Mother," but that need not concern us now.)
Coeur d'Alene's Opera Plus is following up last season's production of Rossini's "The Barber of Seville" with two performances this weekend of Mozart's "Marriage of Figaro" at North Idaho College.
"The Marriage of Figaro" takes up the story after "The Barber of Seville," where Figaro had helped the Count steal Rosina away from her lecherous guardian, enabling them to get married.
Rosina, now a countess, is painfully aware that her husband has a lecherous side, too, and he is eager to seduce Figaro's bride-to-be Susanna. The Countess' eye is caught by the flirtatious young page, Cherubino.
The Count is crafty, and Susanna is apparently willing. Figaro is furious. The Countess is distraught. Cherubino is … well, a teenager testing his testosterone.
Will lust or virtue triumph?
The title role in the Opera Plus production will be sung by bass-baritone Todd Robinson. Anne McKee Reed will take the role of his fiancee, Susanna. Figaro's employer, Count Almaviva, will be sung by baritone Steven Mortier, and the Countess is Christina Kowalski.
Robinson, who was Dr. Bartolo, the villain of last year's "Barber of Seville," has sung a wide variety of roles in numerous national and international productions. He is a graduate of the opera program at the State University of New York at Binghamton and sang in San Francisco Opera's Merola Program.
Reed, a voice teacher at Oregon's Linfield College and Pacific University, will make her Opera Plus debut as Susanna. A graduate of the opera studies programs at the University of Redlands and Portland State University, she sang the role of Zerlina in Portland State's production of "Don Giovanni," which received the National Opera Association's Best College Opera award.
Mortier previously appeared in the Opera Plus production of "Elisir d'Amore." The Eastern Washington University voice teacher has sung with many regional companies throughout the U.S. including Pittsburgh Opera, Tacoma Opera and at the Spoletto Festival USA.
Kowalski, a member of the voice faculty at the University of Puget Sound, has sung in the company's productions of "Elisir d'Amore" and "Gianni Schichi." Born in Germany, she is a graduate in music and drama from Frankfurt's Hochschule fuer Musik.
Mezzo-soprano Carolyn Kahl will sing the part of Cherubino, Mozart's most famous "trousers" role (a male character performed by a woman). She was a member of Seattle Opera's Young Artist Program and recently made her mainstage debut there in Strauss's "Adriadne auf Naxos."
Other roles in this weekend's performances will be filled by Julie Powell as Barbarina, Elizabeth Madsen as Marcellina, Ted Schmitz as both Basilio and Don Curzio, Matthew Trevino as Dr. Bartolo and Max Mendez, the chorus master for Opera Plus, as Antonio.
David Demand of the Coeur d'Alene Symphony will conduct, and the stage direction is by Brenda Nuckton. The opera will be sung in the original Italian with supertitles by Opera Plus artistic director Ann Manzo
Fred Glienna, who recently conducted a three-hour overview of "Figaro" at North Idaho College, will discuss the opera in Schuler Auditorium one hour before curtain time at each performance.
Local journalism is essential.
Give directly to The Spokesman-Review's Northwest Passages community forums series -- which helps to offset the costs of several reporter and editor positions at the newspaper -- by using the easy options below. Gifts processed in this system are not tax deductible, but are predominately used to help meet the local financial requirements needed to receive national matching-grant funds.
Subscribe now to get breaking news alerts in your email inbox
Get breaking news delivered to your inbox as it happens.
---