News > Business
For some, vacationing and volunteerism mix
Sun., April 1, 2007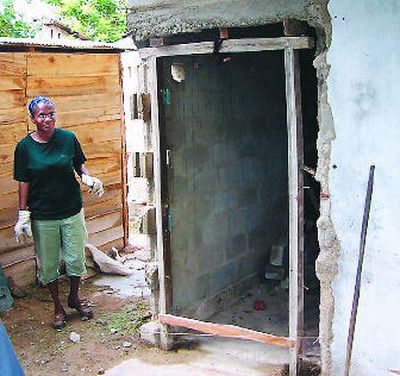 CHICAGO — Mike Wood spent his recent vacation in rural Honduras, visiting Mayan ruins but mostly building latrines and pig pens.
That isn't exactly most people's idea of a glorious week in the sun. But it was thoroughly enjoyable for the assistant high school principal — and he apparently has growing company.
"It's fun to see how 80 or 90 percent of the people live in this world and try to help them out," said the Deer Isle, Maine, resident, who was on a trip organized by the group Sustainable Harvest International.
More Americans are starting to feel the same way about vacations with a charitable or humanitarian purpose, where they can build housing or schools, collect field data or work at a refugee camp, orphanage or archaeological dig.
While the trend is hard to quantify, a wide variety of environmental, medical, nature, children's and other groups as well as churches report that participation in volunteer vacations is on the rise.
Surveys conducted recently by Orbitz, Travelocity and the Travel Industry Association of America confirm that consumers are becoming more interested in vacations with a volunteerism aspect, also known as "voluntourism."
Opportunities that once existed largely with nonprofit activist groups are being adopted by a wide range of travel agencies and tour operators, too. Sally Brown, who heads the Indianapolis not-for-profit group Ambassadors for Children, said the number of travel organizations of various kinds that offer voluntourism trips has probably doubled in the past three years.
Like the 55-year-old Wood, many of the vacation volunteers are baby boomers, who have the money to spend and the time to donate as they edge closer to retirement. But with inspiration coming from a variety of sources — be it 9/11, Hurricane Katrina or just having more disposable income — participants range from teenagers to retirees. Voluntourism is catching on in college campuses, where many students would rather do something other than carousing.
They don't always have to rough it, either. Ambassadors for Children even offers a "light" mission in which travelers stay at a four-star hotel in Puerto Vallarta, Mexico, and spend three of the eight days visiting an orphanage, library and preschool. That may appeal to a family group wishing to make a cultural connection, Brown said, or just those wanting to mix purpose with pleasure.
"Immersion with voluntourism is so much more than you could get by sitting on a beach or on a tour bus," said Brown, a one-time flight attendant who founded the organization in 1998.
Dr. Peggy Fuller, a dermatologist, went to Sri Lanka to build houses in 2005 after seeing the magnitude of the tsunami devastation. Taking a sabbatical from her successful practice in Charlotte, N.C., she spent several weeks making and hauling cinder blocks, carting dirt, carrying water and sweeping.
"I probably wasn't much help at all," said Fuller, 47. "I wasn't there very long. But to see the people's faces — they were so happy we were helping them. That's something you don't forget."
Accountant John Witkowski used to take his wife and four children on vacation to national parks or the Caribbean or Mexico. Now the children are grown and they go instead on what is becoming an annual trip to an orphanage in Guatemala, where they and other church members stay in gender-separated quarters at the facility run by nuns in Guatemala City.
"This is more draining mentally, but it's much more rewarding," said Witkowski, 54, of Colts Neck, N.J.
Their task while there, he said: "Love the kids" and do maintenance projects while they're in school. Despite the language barrier, he feels he connects with the kids through play, joking around and showering them with attention and affection.
"I was overwhelmed that there's so much to do and so little time and can you effectuate change. But there's so much to do, you just can't give up," he said.
Alyssa Stahl, 37, a bank vice president in Chicago, went to West Virginia with Global Volunteers to help build houses in Appalachia last October after finding the group in an Internet search for groups that do volunteer vacations. She did a lot of spackling and painting, working as a mentor to disadvantaged youths.
She's already planning another trip soon to a Native American reservation in Montana where she will do either tutoring, light construction or cleanup projects.
"You feel that you're helping people and you're also getting to learn about a different culture, whether it's West Virginia or Tanzania," she said.
Local journalism is essential.
Give directly to The Spokesman-Review's Northwest Passages community forums series -- which helps to offset the costs of several reporter and editor positions at the newspaper -- by using the easy options below. Gifts processed in this system are not tax deductible, but are predominately used to help meet the local financial requirements needed to receive national matching-grant funds.
Subscribe now to get breaking news alerts in your email inbox
Get breaking news delivered to your inbox as it happens.
---