News > Features
People: No more of those days at the office
Sun., April 1, 2007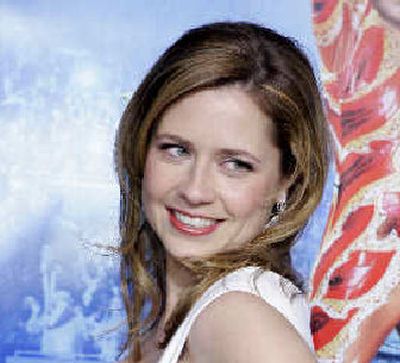 After graduating from Missouri's Truman State University in 1995 with a theater degree, Jenna Fischer debated whether to leave St. Louis and pursue an acting career.
"I had to move in May 1996 or (earn) $10,000, whichever came first," Fischer says. "I moved back home for about 10 months (after graduating) and worked full-time as a secretary.
"May came around and I made … $8,000. So I said, 'I guess I'm moving.' I drove out here (to Los Angeles) in my little Mazda hatchback with my cat."
Now, 11 years later, the 33-year-old actress stars on the Emmy Award-winning NBC comedy series "The Office."
Her latest film, the comedy "Blades of Glory," opened Friday – which, coincidentally, was the day she reported to work on her next feature comedy, "Walk Hard," with John C. Reilly.
Fischer has been married for nearly seven years to writer-director James Gunn ("Slither"). They share their home with a cat named Andy – the same feline who accompanied her to Los Angeles – and a 3-year-old pooch named Wesley.
She wasn't an overnight success. She worked as a secretary – she says she can type 85 words per minute with 90 percent accuracy – for several years in Los Angeles before she hit her stride as an actress.
"Finally, my husband convinced me to quit and concentrate full-time on acting," Fischer says.
Her pleasantness infuses the characters she plays, such as Pam Beesly, the shy receptionist at the Dunder Mifflin paper supply company on "The Office."
With a simple smile or a slight raise of her eyebrow, Pam comments on the craziness surrounding her –especially the off-color attempts at humor by her obnoxious boss Michael (Steve Carell).
Fischer also captures the inherent sadness of Pam's character – she's a painter but can't get anyone in the office to respect her as an artist – as well as her awkward relationship with the company's nice-guy sales rep, Jim Halpert (John Krasinski).
"With Pam, I feel like her whole story is that she has no idea how transparent she is," Fischer says. "Rather than cry, she is going to try really hard not to, and ultimately, that's more heartbreaking."
Her character in "Blades of Glory," Katie Van Waldenberg, is the little sister of egotistical ice-skating pairs champions Stranz (Will Arnett) and Fairchild (Amy Poehler), who blame her for the death of their parents in a car crash.
She ends up falling in with the equally emotionally stunted ice skater Jimmy MacElroy (Jon Heder). The highlight of her performance is the painful first kiss between Katie and Jimmy.
Says co-director Will Speck: "She's beautiful, she's totally relatable and likable, yet she's got the mind of a nerdy comedy guy."
The birthday bunch
Actress Debbie Reynolds is 75. Actress Ali MacGraw is 69. Reggae singer Jimmy Cliff is 59. Rapper/actor Method Man is 36. Filmmakers Albert and Allen Hughes ("Menace II Society") are 35. Actor Sam Huntington ("Superman Returns") is 25.
Local journalism is essential.
Give directly to The Spokesman-Review's Northwest Passages community forums series -- which helps to offset the costs of several reporter and editor positions at the newspaper -- by using the easy options below. Gifts processed in this system are not tax deductible, but are predominately used to help meet the local financial requirements needed to receive national matching-grant funds.
Subscribe now to get breaking news alerts in your email inbox
Get breaking news delivered to your inbox as it happens.
---