News > Idaho
Sandpoint homes to be green
Tue., April 3, 2007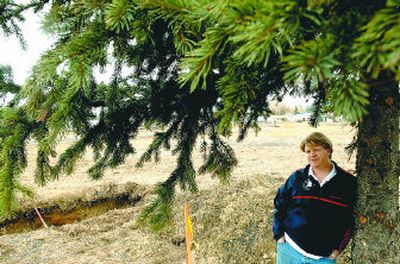 Clean living: A hundred years ago that phrase conjured up an image of someone who abstained from alcohol and attended church weekly. In today's world, it takes on a whole new meaning.
Fruits, vegetables, milk, beauty products and cleaning supplies now come in organic forms as more people turn to a less-toxic lifestyle that they hope will better control their well-being and make a minimal impact on the world. And two real estate developers believe that change should start right in one's home.
"The toxic waste that gets put into building material is scary," said Sandpoint Realtor and developer Kyler Wolf. "It is stuff you certainly would not want your kids to play with, and yet we turn them loose in a new house."
That belief is leading Wolf and his friend and business partner, Grey Hecht, to develop the Cedar Green subdivision in Sandpoint. The 18-lot development on Cedar and Monroe streets will be the first neighborhood of its kind in this region – one that introduces true green technologies throughout the homes and the building process.
Wolf and Hecht are lifelong friends. They were born in the same delivery room three years apart, and their mothers were best friends. They were raised to respect the environment and were introduced to concepts of organic living early in life.
"We both grew up vegetarians and had forward-thinking families," Wolf said.
Wolf worked in the construction industry for several years and in 2003 received his real estate license. Hecht, who lives in Oregon, also has been involved in property development and construction since the early 1990s. Both men have seen the evolution of green technology in the building industry.
Hecht and Wolf have taught themselves about green technology and the environmentally friendly materials commonly used.
"It has been a long process," Wolf said. "We've watched and used green technology as it's been developed. It definitely was not an overnight thing."
Wolf said he believes that modern building practices are not compatible with long-term sustainability.
"There is waste and excess everywhere (in construction)," Wolf said. "This is a way to build responsibly, and we hope other builders will follow suit."
Construction at Cedar Green will begin in May, starting with four homes. The partners plan to build another two to four homes later this year, and to finish construction of all 18 sometime next year, provided sales keep up as anticipated.
The pair hired an engineer to assist in constructing a self-contained water management and retention system. They used all native plants, which rely less on water, fertilizer or pesticides – a step they believe will help preserve the integrity of nearby Lake Pend Oreille.
"Our most precious resource is our lake," Wolf said.
Green technology seeks to keep toxins out of the home by using chemical-free paints and stains, and formaldehyde-free carpet, cabinetry and insulation.
"In thinking of your children and your grandchildren's future, you have to start looking forward and making changes now," Wolf said.
New green neighborhoods are popping up all over the country, predominantly in the Southwest. But the trend is not limited to the housing market. The mayor of Chicago is a vocal advocate for commercial buildings using green technologies.
"Commercial buildings are on the forefront of green technologies," Wolf said. "Because in larger metropolitan areas there are also tax incentives for using these methods."
Coldwater Creek, the Sandpoint-based women's apparel company, is researching how to convert some of its outlets into green retail stores, said Erin McKenna, manager of retail design and architecture for the store and a member of the U.S. Green Building Council.
The construction industry is abuzz about green building practices, she said. "People are getting on the bandwagon."
McKenna also said she has seen attendance explode in recent years at the annual Green Building convention. Four years ago, about 4,000 people attended. In November, 13,000 were at the conference in Denver.
"A lot more people are getting involved because people are demanding a green home or a green condo," she said.
She pointed to other signs of the growing popularity of green living – everything from NASCAR's recent decision to use ethanol, to couples who put on green weddings that include organic foods, heirloom rings, organic flowers and recycled paper invitations.
As for incorporating green technology into homes, the choice for some owners is driven by health concerns. People who suffer from allergies and breathing ailments such as asthma may have short- and long-term health problems from living in a home built of materials that use chemicals, Wolf said.
"People with weakened immune systems or allergies can suffer from the out-gassing from the chemicals," he said.
Hecht's Oregon home is a showcase for green technology. Built of concrete-fiber block, the home has recycled wood for the floors and trim as well as chemical-free paints and stains. He raises goats for milk and grows fruit trees.
Wolf recently bought a 5-acre parcel outside Sandpoint where he is eager to begin an organic garden. He said it's not always easy, but he attempts to be as self-sustaining as possible.
"Both Grey and I have a theory of leaving as small a footprint (on the world) as you can," he said. "Whether driving an economical car or in our choice in foods, we definitely live green values throughout our lives."
Local journalism is essential.
Give directly to The Spokesman-Review's Northwest Passages community forums series -- which helps to offset the costs of several reporter and editor positions at the newspaper -- by using the easy options below. Gifts processed in this system are not tax deductible, but are predominately used to help meet the local financial requirements needed to receive national matching-grant funds.
Subscribe to the Coronavirus newsletter
Get the day's latest Coronavirus news delivered to your inbox by subscribing to our newsletter.
---
Subscribe and log in to the Spokesman-Review to read and comment on this story