News > Spokane
Women steel themselves for change
Mon., April 9, 2007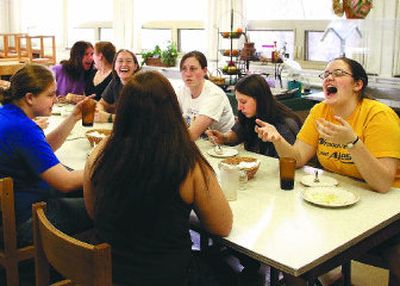 The women of Steel House are losing their home.
But they're doing everything they can to preserve the spirit and habits of the house on the University of Idaho campus – the nation's oldest on-campus women's cooperative dormitory. Since the UI announced two weeks ago that it was closing the house, the residents have demonstrated on campus, met with top UI officials and come up with a possible arrangement to lease another house.
"The girls were very determined," said Cyndil Markert, house president and a sophomore theater major from Bonners Ferry. "We weren't going to let Steel House disappear."
The University of Idaho announced March 22 that it would close the co-op's longtime building on the Moscow campus.
The school said that repairs costing between $1.2 million and $2 million are needed to keep it open as a residence.
When the 35 residents of Steel House clear out when the school year ends in May, the UI will begin deciding whether to knock it down or use it for something else, such as storage.
"It's a building issue as opposed to a community issue," said Michael Griffel, director of university residences. "The community is a good and important community."
Though the university has offered to allow the women to live in another dorm for the same rate as the lower-cost Steel House, residents say it won't be the same.
Residents of the house all share in chores and oversight of the dorm, and save more than $1,100 a year as a result.
But they also live in a more community-oriented style than other dorms, sharing all meals, for example.
"Here you're sort of forced to interact," Markert said. "But it's a good forced interaction."
Residents say it will be hard to duplicate that in a larger dorm building. House leaders have entered talks with a campus fraternity about possibly leasing a house for a few years while working toward building a new Steel House.
"It won't be a permanent option, but it's a good place for us to regroup and do some fundraising," Markert said.
Cooperative housing is not uncommon on college campuses, with the North American Students of Cooperation estimating that there are 10,000 college co-ops in the U.S. and Canada.
Steel House is the nation's oldest on-campus women's cooperative, established in 1953, the UI says. It is named for Ethel Steel, who led efforts to provide co-op housing at the school.
The current Steel House was built in 1952, and even the residents most reluctant to leave say it needs repairs. Griffel said that the UI would be required to spend up to $400,000 to add exit staircases to meet code, and residents complain of a leaky roof. In tough financial times, the university had to decide if it was worth it, he said.
Steel House residents say they understand the UI has to make difficult financial decisions, but they were unhappy with the way they found out about the house's fate, given a one-day notice and little input before a final decision.
"I thought it was done poorly," said Liz McClellan, kitchen manager for the house and a junior from Boise studying English. "They just sent us a note the night before and told us the next day they were kicking us out."
Griffel said the university notified residents as soon as it had gathered enough information to do so. He said he understands the residents' frustration, but he emphasized that the school was acting over concerns about the building and not the co-op itself.
"The university strongly supports a cooperative house and thinks it's an important concept to have on campus," he said. "When you work together, live together and study together, special bonds and relationships are formed."
Local journalism is essential.
Give directly to The Spokesman-Review's Northwest Passages community forums series -- which helps to offset the costs of several reporter and editor positions at the newspaper -- by using the easy options below. Gifts processed in this system are not tax deductible, but are predominately used to help meet the local financial requirements needed to receive national matching-grant funds.
Subscribe to the Coronavirus newsletter
Get the day's latest Coronavirus news delivered to your inbox by subscribing to our newsletter.
---
Subscribe and log in to the Spokesman-Review to read and comment on this story