News > Home
Species tulips put on annual show
Tue., April 10, 2007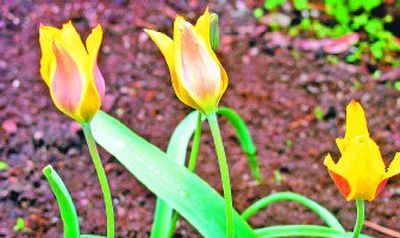 Any garden worth its dirt has tulips.
The bright cups of color scream spring, no mistake about it.
The Dutch did the world a favor by going nuts over tulips in the 17th century, cross breeding them for size and show and bringing us their delicious grandeur.
But if your tastes run to something more restrained, more elegant, more unusual, then consider planting some revisionist history in your garden: the species varieties from which Dutch hybrids were created.
The often diminutive species tulips have become widely available, primarily by mail order, but occasionally at local garden outlets. One Web source lists 200 species plants or cultivars that show the attributes of species tulips.
Many are small, but they are great performers and will reliably come up year after year. What you might lose in size you'll gain back in diversity of color and shape.
Tiny Tulipa linifolia is the truest red you'll ever see. The foliage is also interesting with a bluish-green color that's more grass-like than regular tulips, and the green is edged with burgundy red. Clumps of linifolia bulbs will multiply quickly. Within a few years you have enough that you can share with your friends.
T. turkestanic, like many other species tulips, has darker outer petals with delicate color on the inside. Turkestanica's outer gray and purple petals open under the warmth of sun to show off its inner petals of pale yellow with deep golden orange at the heart of the flower.
T. saxtalis shows a rose-lilac color with a bright yellow base. It's a native of Crete and dates back in commercial trade to about 1825, according to Web site for Van Engelen Inc., one of the leading mail-order firms for bulbs of all types.
The best time to plant spring bulbs is in September or even early October before cold weather sets in.
In the wild, tulips range across sun-drenched slopes in the Mediterranean, Asia Minor and Caucasia. Be careful not to buy bulbs harvested in the wild, but from nursery houses that reproduce them for the commercial market.
Because of their preference for warm climates, all tulips are adapted to bloom early in order to take advantage of winter moisture and to beat the heat of late spring and summer. This is a fact that gardeners can use to their advantage.
Tulips can be planted in spaces that will later be occupied by larger, later developing perennials such as hostas. The tulips will come up early to take in the sunshine they need to replenish their bulbs and divide before the neighboring plant spreads across them. The old foliage can be cut off or left to die, hidden underneath the leaves of its neighbor. It only takes about six weeks for tulips to get enough sun to survive to the next season.
When planting tulips, as in any spring bulb, it's best to group them in clumps, preferably in odd numbers of plants. A series of clumps spaced across a flower bed looks much more attractive than a single stem or line of stems.
Two others favorites are T. humilis 'Persian Pearl,' which has a violet color and T. kolpakowskiana, a deep, intense yellow.
Local journalism is essential.
Give directly to The Spokesman-Review's Northwest Passages community forums series -- which helps to offset the costs of several reporter and editor positions at the newspaper -- by using the easy options below. Gifts processed in this system are not tax deductible, but are predominately used to help meet the local financial requirements needed to receive national matching-grant funds.
Subscribe to the Coronavirus newsletter
Get the day's latest Coronavirus news delivered to your inbox by subscribing to our newsletter.
---
Subscribe and log in to the Spokesman-Review to read and comment on this story