News > Features
Women RVers to get chance to bond
Sat., April 21, 2007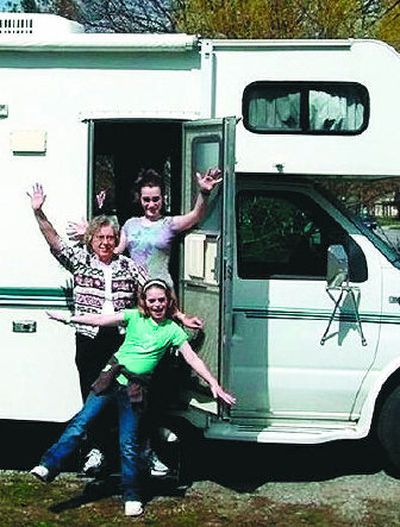 Penney Sales has always loved to travel. For much of her life, however, it involved staying in motels.
"We weren't a camping family when I was young," she says.
All of that changed in 1993 when, on impulse, she purchased her first recreational vehicle, a 1981 18-foot Toyota Sunrader.
"It reminded me of a little pop-up Chinook camper my aunt had back in the early '70s," recalls Sales.
"She was at least 70 at the time and driving all around the West by herself in this little motor home," says Sales. "Of course, this was a woman who, much earlier in her life, had traveled alone throughout Arabia."
The memory of that independent spirit has remained with Sales to this day.
"One of my dreams is to have the freedom to travel and be self-employed," she says.
Another longtime dream has been to organize a seminar for women RVers geared around sharing information and meeting potential RV travel partners.
That dream is about to happen.
On May 6, Sales, owner of Coaching for Life, will be leading a full-day event on "RVing Women and Wannabes" (see details below).
"Very seldom do women RVers have an opportunity to get together and share experiences," say Sales. "This is also a chance for women who are just thinking about traveling in an RV to find resources."
After registration and coffee, the Sales will lead a "Living Your Dreams Workshop."
"There will be lots of opportunities during the day to meet new friends," says Sales. "We'll ask women who have been on the road to talk a little about it."
One of those women will be author and former full-time solo RVer Joei Carlton Hossack of Surrey, B.C. She is driving down in her truck and brand new camper.
Hossack has penned seven real-life adventure-travel books, including her most recent, "Chasing the Lost Dream." Her Web site is www.joeicarlton.com.
I'll be on hand to chat with women about their RV stories and dreams.
RVing Women, Wannabes
"Date: May 6, 9 a.m. sign-in and coffee, seminar goes from 9:30 a.m. to 4:30 p.m., with a break for a potluck lunch.
"Location: Lake City Senior Center, 1916 Lakewood Drive, Coeur d'Alene.
"Cost: $35. Women are asked to bring something to share during the potluck lunch.
"Registration deadline: May 2.
Send a check for $35 to Coaching for Life, P.O. Box 3258, Coeur d'Alene, ID 83816. Be sure to include your name and telephone number.
"Information: Call Penney Sales at (208) 665-7782.
HGTV's 'RV Road Home'
"RV Road Home," a four-part series airing on HGTV (Comcast channel 68), explores different ways people use their recreational vehicles for fun and adventure.
Each 30-minute installment follows three groups of RVers to various destinations. There is also a short segment on the latest bells and whistles for today's rigs.
""Touring Wine Country" airs on Sunday at 5 p.m. Host Chi-Lan Lieu follows two couples as they tour wine country on their dream vacation. Another segment observes a family taking their toy haul trailer to a desert paradise for off-road vehicles. A third group heads to the National Finals Rodeo in Las Vegas. This episode repeats on May 26 at 5 p.m.
""Heading to Horse Shows" follows on Sunday at 5:30 p.m. with an extended family taking their spacious fifth wheel trailer to horse shows. Then a couple heads to the lake in their luxury motor coach. The third segment follows a family on a rock-hunting expedition in Nevada's Valley of Fire. The episode repeats on May 26 at 5:30 p.m.
""Traveling the Pet Show Circuit" is featured on May 25 at 5 p.m., along with a trip to Florida for an amazing night launch of the space shuttle. The show rounds out with a family that explores the desert near Las Vegas in their ATVs.
""Trekking to the Tamale Festival" is a special RV adventure for one family in the May 25 episode at 5:30 p.m. The next featured group takes their top-of-the-line coach to the resort town of Idyllwild, Calif., while the third family drives their handy little RV to Dana Point Harbor, where they embark on a whale-watching tour.
Local journalism is essential.
Give directly to The Spokesman-Review's Northwest Passages community forums series -- which helps to offset the costs of several reporter and editor positions at the newspaper -- by using the easy options below. Gifts processed in this system are not tax deductible, but are predominately used to help meet the local financial requirements needed to receive national matching-grant funds.
Subscribe now to get breaking news alerts in your email inbox
Get breaking news delivered to your inbox as it happens.
---