News > Spokane
New health facility set for service
Wed., Aug. 1, 2007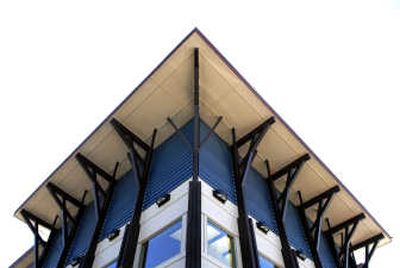 Less than a year after breaking ground, the NATIVE Project's new health care facility is up and running in the heart of Spokane's West Central neighborhood.
The $3.9 million expansion at 1803 W. Maxwell Ave. combines the nonprofit agency's behavioral health services and health clinic under one roof, providing 18,000 square feet of space in service to low-income residents – whether or not they are American Indian, whether or not they are insured.
Last year, NATIVE Project counselors logged 11,500 hours of youth and rehabilitative care while NATIVE Health recorded 25,000 patient visits at its old clinic on North Foothills Drive.
This year, the clinic is accepting new patients, to provide better access to health care for the poor and minority communities in Spokane County, where an estimated 45,000 people have no health insurance. About 70 percent of the clinic's patients are American Indian, while about 70 percent of NATIVE's behavioral health clients are non-native.
The expansion increases the number of NATIVE Health's examination rooms from five to 11 and adds room for a pharmacy and lab, as well as a dental clinic that should be completed by December with the help of a recent $186,000 grant from the Washington Dental Foundation.
"We have improved the quality of life in West Central as much as anybody, not just for the Indian Community, but for everybody," said Toni Lodge, NATIVE's director.
Nearly 13,000 people in Spokane claim native ancestry, representing 127 North American tribes.
The clinic's two-story great room, which is available for use by the community, reflects this indigenous diversity. It is adorned with seven large paintings by Spokane Indian artist George Flett, which illustrate the traditions of Plains, Plateau and Southwest tribes.
NATIVE – which stands for Native American Treatment InterVention Education – employs 38 people, including an American Indian physician, two nurse practitioners and several American Indian nurses. Lodge said the new facility will provide the room to expand both health and behavioral health staff.
Employees can make use of a break room, an indoor walking track and shower room. Transient clients also have access to a bathroom with shower, as well as a washer and dryer.
The facility provides room for nutrition and diabetes counseling. An on-site social service worker can provide clients with assistance, including help obtaining food stamps.
The expansion was made possible by public and private grants including contributions from the Bill and Melinda Gates Foundation, $340,000; city of Spokane Community Development Block Grant, $340,000; Paul G. Allen Family Foundation, $250,000; state of Washington Community, Trade and Economic Development grant, $375,000; and a Washington Health Care Facilities Authority loan, $1.7 million.
The NATIVE Project expansion capital campaign still needs to raise $480,000.
Local journalism is essential.
Give directly to The Spokesman-Review's Northwest Passages community forums series -- which helps to offset the costs of several reporter and editor positions at the newspaper -- by using the easy options below. Gifts processed in this system are not tax deductible, but are predominately used to help meet the local financial requirements needed to receive national matching-grant funds.
Subscribe to the Coronavirus newsletter
Get the day's latest Coronavirus news delivered to your inbox by subscribing to our newsletter.
---