News > Travel
Mom, daughter tackle Blue Ridge
Sun., Aug. 5, 2007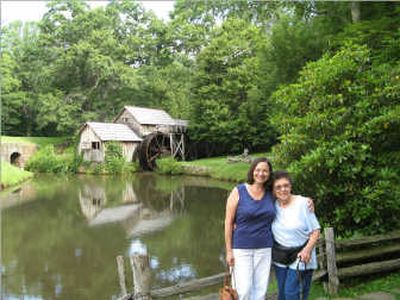 Malia Lane usually travels solo in her 36-foot motor home.
About once a year, however, her 80-year-old mother joins her for a long road trip.
Together they have traced the Alaska Highway, explored the Oregon and California coasts, and stopped in to say hello to Mickey Mouse at Disney World in Orlando, Fla.
This summer they followed the Blue Ridge Parkway from milepost 469 in the Smoky Mountain National Park in North Carolina to its beginning in Virginia's Shenandoah National Park.
"It's raining like crazy here, lightening and thundering, everything," Lane said during a mid-July cell phone conversation from a campground near Natural Bridge, Va., a few miles west of milepost 62 on the parkway.
"Mom is still as excited as a 6-year-old," continued the 50-something Lane. "She says one reason she's so happy I started RVing is because she gets to go with me on trips like this."
Lane, a full-time RVer since 2001, is researching an article for MotorHome Magazine about RVing the parkway in two seasons: summer and autumn.
To help with "gas money," she also works temporary paralegal jobs, which she will do in Charlottesville, Va., before jumping back on the parkway in October to head south, taking in the brilliant fall colors.
Over the past six years, Lane has lived in almost every region of the country, including the Pacific Northwest, where she stopped for several months in both Washington and Oregon.
Since leaving Oregon in 2005, she has had extended stays in New Mexico, Texas, California and South Carolina.
Blue Ridge Parkway
Lane was working in Savannah, Ga., for three months before her mother, Bertha Quimby, flew in from Austin, Texas, for a rolling visit.
They pulled out of Savannah on June 14, heading for the southern end of the Blue Ridge Parkway near Cherokee, N.C.
"Our goal was not to miss a foot of this beautiful drive," says Lane.
The popular winding, two-lane scenic roadway, with its breathtaking views, stretches along the front range of the Appalachian Mountains. An estimated 20 million visitors travel some portion of the route each year.
Mom's impressions
"My favorite part of the trip was being way up high on the parkway," says Quimby. "It's kind of like soaring, you know."
Then there are the trees, more than 120 species.
"Just seeing all these beautiful mountains and the green trees," she says. "There are so many different shades of green and such a tremendous variety of wildflowers. It is overwhelming at times."
The Southern Appalachian region is said to be among the most biologically diverse areas in the world.
"It has been a great, great experience," Quimby says.
Malia's top picks
When asked for her top three places, Lane hesitates.
"There was so much," she says of their four-week journey.
When pressed, however, she came up with:
"Biltmore Estate, a glorious, 8,000-acre parkland nestled in the mountains near Asheville.
The estate's centerpiece is America's largest privately owned home: a 250-room French-Renaissance chateau completed in 1895 for George Vanderbilt. The house alone has four acres of floor space.
This National Historic Landmark is among the country's most visited historic residences.
The estate includes lush gardens, scenic walking trails, a winery, a lake or two and an incredible four-star inn.
"I had been there once before at Christmas and had always wanted to go back," Lane says. "I remember being absolutely amazed that a man-made thing could be so beautiful."
"Chimney Rock Park, with some of North Carolina's most sweeping vistas, is about 25 miles southeast of Asheville.
Lane remembers hiking the sometimes strenuous, 1.5-mile Skyline-Cliff Trail Loop, which leads to the top of the 404-foot Hickory Nut Falls.
"This is the area where the final scenes from 'The Last of the Mohicans' were filmed," she says. "There were amazing views."
She reports seeing a sign on the trail quoting frontier fiction author Louis L'Amour: "The trail is the thing, not the end of the trail. Travel too fast and you miss all you are traveling for."
"Grandfather Mountain in North Carolina is the highest peak in the Blue Ridge Mountain range, measuring in at 5,964 feet.
People stop here to soak up the beautiful mountain scenery and to traverse the Mile High Swinging Bridge.
The bridge itself is not really a mile high, unless one measures it from sea level.
"But the 80 feet down you do see is plenty daunting," says Lane. "It's still a thrill to walk across."
End of journey
After Lane and her mom finished their monthlong excursion, Bertha Quimby boarded an airplane in Richmond for her return flight to the Texas hill country.
"We're both absolutely exhausted," writes Lane in an e-mail, "but it was a great trip."
Local journalism is essential.
Give directly to The Spokesman-Review's Northwest Passages community forums series -- which helps to offset the costs of several reporter and editor positions at the newspaper -- by using the easy options below. Gifts processed in this system are not tax deductible, but are predominately used to help meet the local financial requirements needed to receive national matching-grant funds.
Subscribe to the Coronavirus newsletter
Get the day's latest Coronavirus news delivered to your inbox by subscribing to our newsletter.
---
Subscribe and log in to the Spokesman-Review to read and comment on this story