News > Spokane
Tobacco suit about to pay off
Mon., Aug. 6, 2007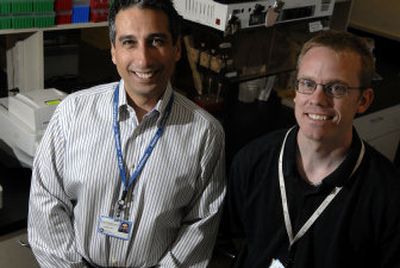 One researcher wants to study the role of genetics in overweight pigs – with an eye toward developing individualized approaches to diet.
Another hopes to create a microchip that could measure tiny "biomarkers" in the blood, raising the potential of personalized predictions for heart attack and disease.
And scientists at Sacred Heart Medical Center are hoping to further develop an important tool for the genetic diagnoses of diseases.
Researchers, hospitals and universities are lining up to apply for the first grants from the Life Sciences Discovery Fund, a new Washington program that intends to put $350 million in tobacco settlement money toward health-care research and economic development.
Supporters consider it a good start for a state that hasn't invested as much in research as several others, and they hope it will help improve people's health and the economy.
"We're really looking to make an impact in Washington state," said John DesRosier, program director for the fund.
The fund, created by the Legislature in 2005, will award its first grants in September – between four and eight awards totaling a relatively modest $3 million to $6 million. More than 70 applications for the grants came in.
Next year, the project expects to hand out $20 million, after the state receives its first payment from the multibillion-dollar settlement with tobacco companies that Gov. Chris Gregoire negotiated when she was attorney general in 1998.
State officials hope that the tobacco payments will be seed money that attracts $650 million more in private and federal grants, and helps to establish research centers and programs of study.
Project officials are heartened that before the first tobacco money has even arrived, millions in private donations have come in. Funding for the first round of grants, for example, comes from private donors, including the foundations of Bill Gates and Paul Allen, Regence Blue Shield and Microsoft.
The project will focus on research and economic development in health care and the life sciences, with an emphasis on projects that show concrete benefits, DesRosier said – an emphasis on applied science more than basic research.
The project will provide funds for two types of endeavor – narrowly focused scientific investigations and broad, collaborative programs that could become permanent centers for research.
Public information about the first batch of applicants has been limited. In response to a records request from the Associated Press, the fund released information about applicants that included their names, institutional affiliations, and size of grants sought. Removed from the record were all details of the research proposed.
The secrecy troubles advocates of open government.
"From the beginning, a lot of people were concerned that you would know a certain amount of money was being spent, and you would have no idea what was being done with it," said Michele Earl-Hubbard, an open government expert with Allied Law Group.
DesRosier said that researchers have a proprietary interest in not having their "best possible ideas" made public, at least before a grant is awarded. Projects that receive more money would face more public scrutiny.
"At this point, it's not made public because public disclosure has the ability to erode or eliminate the competitiveness of applicants," he said.
State law allows the withholding of information if it can be expected to create a "private loss."
DesRosier said that applications range from computerizing medical records to studying viral diseases to creating Web-based systems to provide information to people with chronic diseases.
At Sacred Heart, Bassem Bajjani and Todd Christensen of the hospital's molecular diagnostics lab are seeking $450,000 for their work on developing synthetic molecules that could be used as control samples for diagnosing a variety of diseases. These synthetic bits of DNA could be used in testing people's molecules to see if they have the mutations that indicate a disease or health problem.
Cornelius Ivory, a professor of chemical engineering at WSU, has applied for $750,000 for a three-year effort to create a microchip that can measure minute amounts of a protein in blood samples. That could eventually lead to technology that predicts an individual's risk of heart attack or disease.
Ivory said that research like his can help the state's economy. If the work is successful, it can be licensed and marketed, and ongoing research can continue to attract grant funding from federal and private sources, he said.
"We expect there's going to be a multiplier effect," he said.
Another WSU researcher, John McNamara, is seeking more than $372,000 to study the effects of diet and genetics on obesity in pigs – which he said make good models of comparison for humans. McNamara wants to follow pigs with different genetic makeups through a variety of diets and chart the impact on their bodies.
The work could eventually lead to methods of creating individualized diet plans that could narrowly predict the impact of certain foods on a person's body, he said.
While university research makes up the bulk of the proposals – with the University of Washington producing the majority of applicants – there are also applications from the Community Health Association of Spokane for $1.1 million, and $450,000 at Sacred Heart.
The details of those projects were not included in information released by the state, and officials at CHAS and Sacred Heart could not be reached this week.
Jim Petersen, the vice provost for research at WSU, said even with the new funding, Washington lags behind other states with major research programs.
A report by the National Science Foundation said that in 2005, state and local governments spent about $42 million on research projects. California, New York, Florida and Texas spent several times more.
But the federal government spends far more than any other agency or company on research. The NSF report showed that in 2005, federal spending on research amounted to $45 billion; spending by all states and local governments was $2.9 billion.
"I would argue that this is a start," he said. "We need to identify other ways to stimulate those activities that are going to benefit the long-term economic health of the state."
Local journalism is essential.
Give directly to The Spokesman-Review's Northwest Passages community forums series -- which helps to offset the costs of several reporter and editor positions at the newspaper -- by using the easy options below. Gifts processed in this system are not tax deductible, but are predominately used to help meet the local financial requirements needed to receive national matching-grant funds.
Subscribe now to get breaking news alerts in your email inbox
Get breaking news delivered to your inbox as it happens.
---