News > Spokane
Fun day in the park all about kids
Sun., Aug. 12, 2007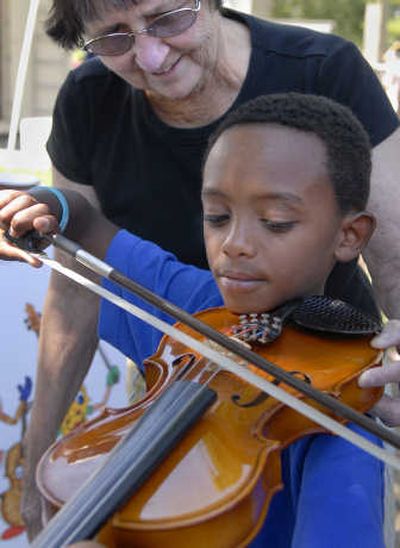 The stroller count was high Saturday in Riverfront Park, as thousands of families flooded in for the annual Kids Day celebration.
Children had scores of games and activities to try, ranging from playing a violin to watching a mime to whacking a dummy with a bamboo kendo sword. Tied in with the activities was information about services and organizations that help families, as well as some business booths.
"The whole premise is everybody's supposed to do a free activity for kids," said Chris Leinweber, who coordinated the event for primary sponsor public TV station KSPS.
So the chiropractor's booth offered a game of Twister. An environmental group provided a water-drop race. The Cub Scouts had a bouncy castle.
Randy Fisher, education director for the Spokane Symphony, oversaw a booth that put violins and trumpets into the hands of impressionable youngsters.
"We're helping them have a wonderful first experience playing a musical instrument," he said. "They will never think an instrument is hard or something they don't want to do, because they had a good experience in a minute."
Last year, more than 600 kids stepped up for a minute on the violin or trumpet.
While Fisher spoke, 3-year-old Jason Wall tentatively drew a bow across the violin strings as his dad watched and mom took pictures.
Jennifer Wall said they had come to the event last year and returned because it's a great environment for children.
"All this – it's so kid-friendly," she said, indicating the range of booths and activities surrounding her.
As if to punctuate her point, it was just seconds for Jason between putting down the violin and picking up a golf club – knocking a ball into a makeshift hole.
Leinweber said the event, which has been held in Spokane for more than 20 years, typically draws as many as 10,000 people. This year, more than 70 booths were set up along park walkways.
"It's education, it's fun – it's basically a day for kids to come out and have a lot of activities for free and enjoy themselves," he said.
The event is useful for nonprofit organizations that help children and families to spread their message, and many booths had a focus on safety and health for children. Keith O'Brien, who works for Big Brothers Big Sisters, was handing out pinwheels at his organization's booth. He said Kids Day brings the word about his group to families who may want a Big Brother for a child – or who may want to volunteer themselves.
"It's tons of fun," he said. "We like to say kids are our passion, and they really are. So it's great to have this event."
At a booth run by Girl Scout Troop 2259, Alissa Ludeman, 8, and her friends demonstrated how mixing primary colors results in secondary ones, using colored liquids and small pieces of straw.
She placed a stopper of yellow into her "test tube," followed by a stopper of blue – and then she shook it up.
"And then it turns into a greenish-yellowish," she said.
Austin Dearinger, an 8-year-old Spokane boy, took a turn at the Spokane Kendo Club booth, wielding a bamboo sword at a dummy.
"I get to pretend I know how to do karate – like fighting an actual person," he said.
"Every kid that's here is having a whole bunch of fun."
Local journalism is essential.
Give directly to The Spokesman-Review's Northwest Passages community forums series -- which helps to offset the costs of several reporter and editor positions at the newspaper -- by using the easy options below. Gifts processed in this system are not tax deductible, but are predominately used to help meet the local financial requirements needed to receive national matching-grant funds.
Subscribe now to get breaking news alerts in your email inbox
Get breaking news delivered to your inbox as it happens.
---